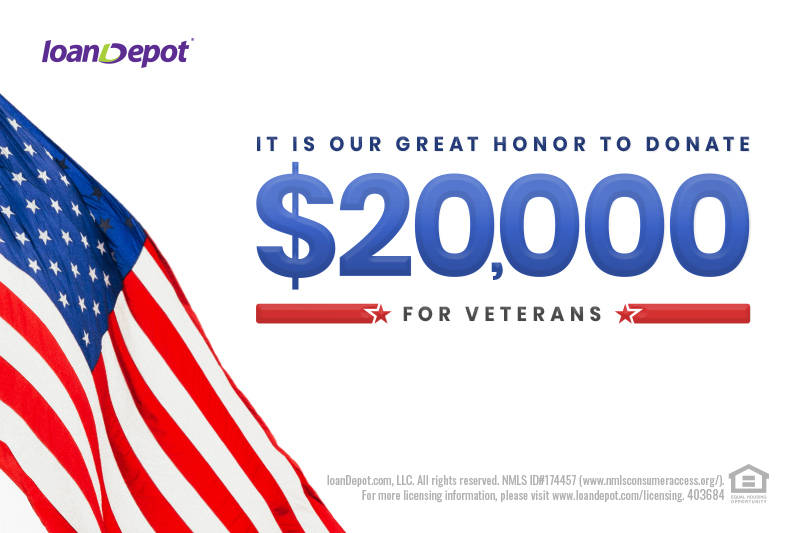 loanDepot Founder and CEO Anthony Hsieh today announced that the Company will be donating $20,000 to Freedom Alliance. The donation, made on behalf of the Company's veteran team members, will be used by Freedom Alliance to support their ongoing therapeutic service programs.
"In honor of Veterans Day, I'm proud to announce that loanDepot is making a $20,000 donation to Freedom Alliance on behalf of our company's veterans," said Hsieh. "These funds will be used to help Freedom Alliance continue their great work in helping our veterans through ongoing programs nationwide."
"We are honored to accept this special Veterans Day donation," said Calvin Coolidge, Executive Director, Freedom Alliance. "The funds provided will help us continue the important work we do daily, ensuring that our veterans and veteran families receive much-needed and continuing support through events, therapeutic services, retreats and scholarships."
The donation aligns with loanDepot's long-standing philanthropic commitment to the communities in which it lives and serves. Over the course of its 10-year history, loanDepot has donated millions of dollars and hundreds of volunteer hours to charities nationwide. Most recently, the company, under Hsieh's direction, donated $1 million to support individuals, families and children directly impacted by the COVID-19 virus, as well as first responder, healthcare works and support personnel.
Today's donation is reflective of the Company's—and Hsieh's—high regard for the veteran community.
"I want to express my thanks to each and every member of Team loanDepot who has served, or is serving, in our military. It is our distinct privilege to have you on our team, and to work side by side with you," he explained. "This donation is made on your behalf, in honor of your service."
Supporting and honoring the veteran community is especially important to Hsieh. In 2018, following a weekend of sportfishing with a group of seven veterans, he conceptualized the War Heroes on Water Tournament, which supports the healing of combat-wounded veterans through therapeutic on-water activities. To date, War Heroes on Water has raised more than $1 million dollars for Veterans' therapeutic services. Freedom Alliance serves as War Heroes on Water's charitable partner.
"These are our nation's greatest heroes, and it is imperative that, after all our veterans have done for us, and given to us, that we do whatever we can to support and help them," Hsieh added.
Since its inception in 1990, Freedom Alliance has provided more than $16 million in scholarship assistance, and supports the rehabilitation needs of wounded troops through recreational therapy retreats, Heroes Retreats, mortgage-free homes and all-terrain wheelchairs.
To learn more about Freedom Alliance, please visit. To learn more about War Heroes on Water, please visit. And, you can read the premiere edition of War Heroes on Water magazine here.
WHOW raises funds in coordination with our partner philanthropic organization, Freedom Alliance. Freedom Alliance is recognized by the IRS as a public charity organized under section 501(c)(3) of the IRS Code. loanDepot and Freedom Alliance are not affiliated in any way.