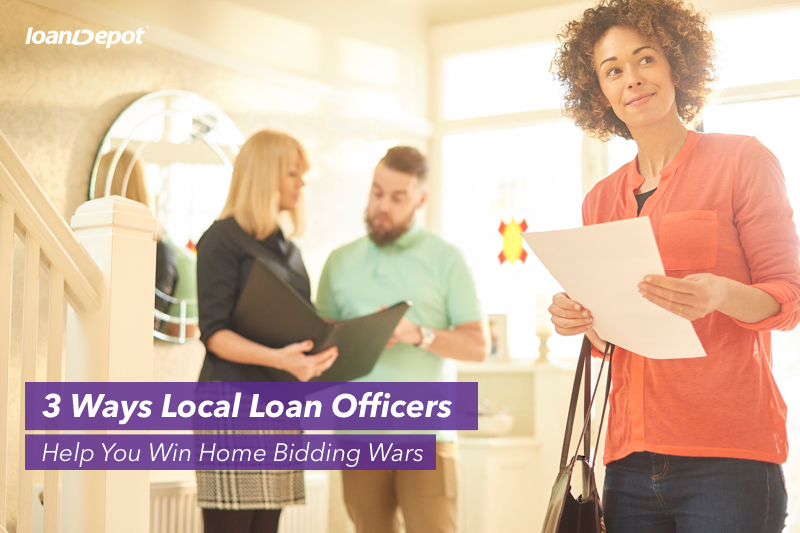 Recently the Wall Street Journal said local mortgage lenders can offer an edge when you're in a bidding war, and this topic is worth looking at more closely. "Local" means loan agent, not lender, and there are three reasons a local loan agent gives you an edge.
1.

Local loan agents live in the communities where you want to buy, and are as valuable as your real estate agent when advising on properties. They know where the street noise is. They know the new developments happening in the areas which impact present lifestyle and future value.



2.

They know the realtors on the ground so when they're writing a pre-approval letter for you, they usually know the listing agent representing the sellers, and of course they know your agent representing you--in many cases, your agent probably referred you to your loan agent. This means they can help your agent sell the strength of your offer to the listing agent, whose primary goal is to select an offer in a bidding war that's going to close fastest and easiest. It also means you've got an additional advisor on your transaction as a whole, not just an advisor on the financing component.



3.

A local loan officer is an expert on local title, escrow, and taxation issues and customs. Each local market in the country has nuances about how transactions must close, and what taxes are assessed when properties transfer. If a non-local loan officer doesn't know these nuances, it can delay or derail a home purchase. And when you're in a bidding war, the listing agent will typically accept a back-up offer behind the offer they accept. So if they accepted your offer and it's delayed, you can risk losing the property.
As technology makes it easier for more lenders go online, it's tempting to work with a lender who doesn't have boots on the ground in your area for the sake of convenience, but this isn't ideal when buying (as opposed to refinancing) in an extremely competitive market where local credibility still matters when getting offers accepted.
Working with loanDepot gives you all the digital simplicity so you can run the whole process from your phone, plus we give you the smart local advice with local retail locations in more than 200 markets across the country.