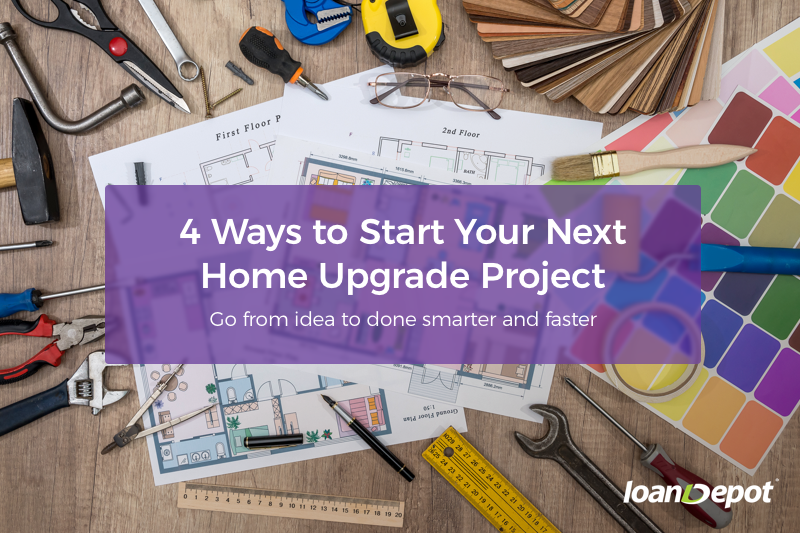 With summer coming, now's the perfect time to finally make those home improvements you've been thinking about. Maybe it's the dining room that couldn't quite host everyone during the holidays, or fixing the front porch that can't take one more winter beating.
The hardest part of any home improvement project is starting. The good news is wanting that updated dining room, deck, kitchen, or closet is actually the first step, so you're already on your way! Let's break it down.
Get A Vision

If part of your place today is more drab than fab, it's probably a particular feature that doesn't add any value for you. Like a jetted tub that doesn't work, or an outdated appliance that doesn't make sense anymore—does anyone still use a trash compactor?—these once-desirable must-haves might be dated eyesores for you today, and can often trigger brainstorms for replacement options.

Thankfully, inspiration is a click away thanks to design blogs and communities like Apartment Therapy and Pinterest. Stories and boards available there can help you determine options to polish up your current setup.

Or it might even lead to reimagining your entire space. Like deciding to redo all of your kitchen cabinets while trashing your trash compactor.

Get A Contractor

Once you've gone from inspiration to vision, you need a smart, local team to get the job done.

Historically, contractors have been hard to find but our sister company mello Home is solving this by creating a one-stop shop for home buying, financing and improvement.

"If it's more complex than rolling paint or installing a dimmer, there has to be an easy way for people to assemble the talent they need," said mello Home CEO Chris Heller. "We think a centralized network of pros will be the way everyone makes upgrades and tackles home projects in the future."

Our vision is for an always-on hub that instantly connects you with certified, available pros to drive your vision.

Get Money To Pay For It

Money also drives your vision, and if you're not funding home improvements with cash, you can get started with loanDepot in a couple ways.

One way is to do a home equity loan or a home equity line of credit. Both of these options function as a second mortgage, and these loans can meet a number of broader financial and tax objectives in addition to funding your home improvement project, but they aren't immediate because a home appraisal is required to put these loans in place.

If your objectives are limited to the home improvement project, you can do a personal or home improvement loan in a matter of days and knock out the work in no time.

Once you connect with us, a loan consultant will quickly assess your short- and long-term objectives to recommend the best financing to fit your budget, and you can run the whole process from your phone. Digital simplicity paired with smart local advice.

Get Started Your Way

With loanDepot and our partner company mello Home, you can get started on your home improvement project any way you want.

The obvious path is get financing in place and then engage with a contractor. This is a breeze because after you did your loanDepot loan consultation as noted above, you'd then go find your contractor on mello Home and get going.

But you can start the other way, too. For example, if you wanted a contractor to propose a few different price levels of kitchen remodels before you explored financing, you'd start with mello Home. Then if you like the contractor's bid, you can get started on the financing with the contractor directly.
This contractor-direct financing is coming soon in 2018, and we look forward to helping you realize your next home improvement vision.