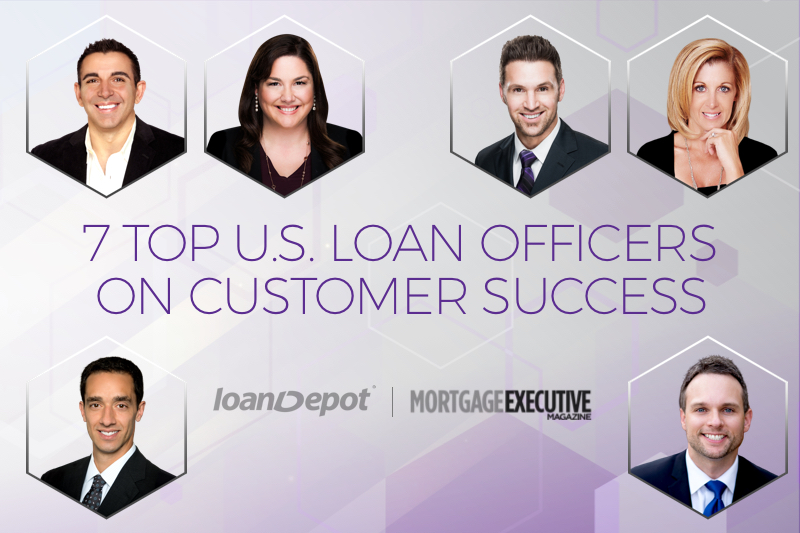 Mortgage Executive magazine just shared two rankings of top loan officers in the country, and loanDepot shined with more than 70 team members on the top 1% list, and seven on the top 200 list. Every day in local markets across the country, these loanDepot pros give customers smart advice, a one-stop shop for mortgage and nonmortgage loans, and super easy technology to close loans fast.
We asked our seven loan officers on the top 200 list how they help customers win when making their biggest financial decisions, and here's what they said:
"From the first day, we've got to make sure communication is done right. There's nothing worse than a customer wondering what's happening – if that's happened, we've failed. Constant connection to keep them informed is job one from day one." – Baret Kechian
"For me, the goal is to put myself directly into their shoes and replicate the experience I'd want. We've all experienced good service and bad service: I constantly look at the best service from the best companies to keep learning how I can support my customers." – Brian Decker
"There's so much lending misinformation out there about the process and horror stories of how difficult it can be. Buying a home is a huge deal for people, but we put our knowledge base to work for them. We need to know all that applies to each client scenario—we listen and learn from our clients, then advise to meet their exact needs." – Carl Nielsen
"We invest in setting customers up for success from day one. We close knowledge gaps where we find them, helping our customers get smarter about the lending process each day as they close in on their goals. Seeing clients' eyes light up when they start getting a command of the process and their own financial lives is the best reward I get every day." – Jason Evans
"When our customers get to close, especially when they've had a hard road before meeting us, overcome obstacles, and we've been with them every step of the way – it's incredibly rewarding to be part of their process. They've put so much work in, seeing their gratification is powerful." – David Yurovchak
"I'm here to serve my customers and give myself over to their goals. When I see my team's and company's dedication and how hard they work on behalf of our customers, it's all the fuel I need. It takes a village to close a loan on time with no surprises, and the loanDepot team never loses sight of this." – Lisa Gustafson
"Shopping for a home and closing a loan are extremely hard, but these things must be easy for the customer. A huge piece of the puzzle is having the best technology, and loanDepot has no peer at this time in the industry. They give me the confidence I need to make my customers shine." – Kelly Crowther
We'd like to offer a huge thank you to our customers, and a huge congrats to these top loan consultants—loanDepot is truly proud to serve you both.
We will continue marching toward our vision of combining digital simplicity with smart local advice to give homeowners a one-stop shop for home buying, financing, and improvement.