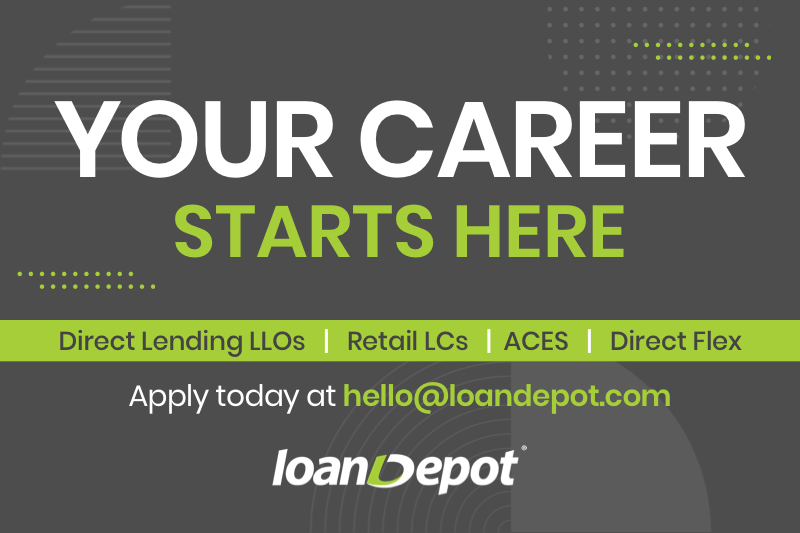 If you've ever been interested in a career in the fast-paced world of finance, but wasn't sure how to get started—or if you're a seasoned loan officer who's looking for opportunity for unlimited growth—now's the time to connect with us. We're hiring more than 1,400 #TeamloanDepot associates at locations nationwide.
"Thanks to our proprietary technology and fully digital end-to-end mello smartloan™ loan process, loanDepot is entering a period of unprecedented growth and opportunity," said TJ Freeborn, Senior Vice President at loanDepot. "To ensure that we can continue to serve our customers exponentially well during this period of dynamic growth, we are adding top-level talent to our team and one of the key ways we will do this is via our ACES program. ACES allows us to give really talented, customer focused individuals an opportunity to have an exceptionally rewarding career in the exciting world of fintech, even if they have no prior experience, all while helping customers achieve the American dream of homeownership."
For entry-level job seekers looking for a career opportunity that offers unlimited income opportunities, loanDepot's proprietary Accelerated Career in Effective Sales, or ACES, is the answer. Widely regarded as one of the best finance services training programs in the country, this all-expense paid program enables entry-level candidates to learn the mortgage industry from the ground up via our exceptional curriculum, taught by loanDepot's team of sales experts. The program is offered at the company's Orange County, Phoenix, Nashville and Dallas locations through September 1.
"We believe," adds Freeborn, "that there are bright, talented, capable sales people in this country today who are underpaid or undervalued in their current role and that, via ACES, we give these people opportunities to reach their full potential, not only from a compensation standpoint, but, more importantly, from a personal fulfillment standpoint, with a brand that customers know, trust and want to do business with."
Experienced loan officers also should be giving loanDepot a closer look. Thanks to the dynamic growth across all of the Company's sales channels, loanDepot is looking to add approximately 1,000 loan officers in or near loanDepot's five Direct Lending national campus locations as well as another nearly 300 to its local Retail branch locations. Additional new hires will be integrated into the Company's Joint Venture and Wholesale channels and in corporate infrastructure roles.
And, for job seekers looking for the ultimate in flexibility, loanDepot offers its DirectFlex program. Similar to Uber in philosophy, loanDepot's DirectFlex model allows sales professionals to instantly connect and work anytime, anywhere, on their own schedule and terms and creates a virtual alternative to traditional brick and mortar financial services employment. DirectFlex is the first employment model of its kind in the industry, bridges the gap between career satisfaction, personal performance and work|life integration.
"loanDepot has long been known as an innovator," adds Freeborn about the DirectFlex program. "Experienced sales professionals are certainly the core of our business model and our industry. That being said, our vision of the industry and customer behavior is futuristic and expansive. In order to deliver service at the proper levels, we must think about things differently."
If you're interested in learning more about any of the positions listed here, please send us an email or your resume to hello@loandepot.com. Note that ACES classes fill up quickly, so please do not hesitate to share your interest in this innovative program today.