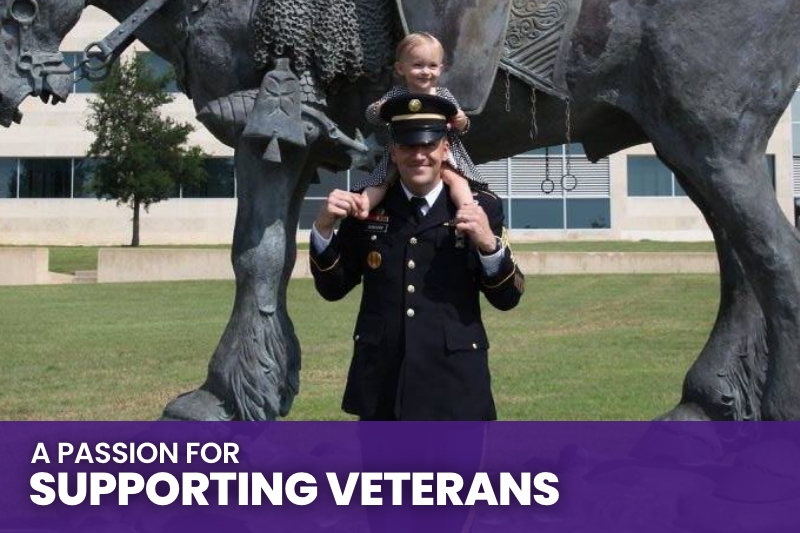 For Loan Specialist Joe Donovan, helping fellow veterans is a passion. A retired First Sergeant, Joe served for over 20 years with the U.S. Army, then found his way into mortgage lending as a way to continue helping his brothers and sisters in arms.
"That's one of the great things about when I left the military and became a loan officer," says Joe. "I could continue to serve my brothers and sisters who are in our local communities—making sure they're properly cared for and receiving the best guidance to meet their financial and homebuying goals."
Now living in the Atlanta, GA, area, Joe enjoys working with active-duty soldiers, many of whom come from nearby Fort Benning. "Assisting active-duty soldiers is where my passion is. I look at it as an opportunity to be a financial mentor for them."
It's a role that comes naturally to Joe. "When I was in the Army, my job was to mentor and coach soldiers, and, in my current role, I also get to do that, but from a lender's eye," he explains. "I know how stressful the homebuying experience can be, so I can say with confidence, 'Let me take some of that stress off of you. Let me worry about the loan. You're in good hands.'"
Joe joined loanDepot in 2019, at the same time as his teammate and brother-in-law, Alpharetta, GA Branch Manager Jeff Zulauf.
"loanDepot offered the digital technology and the support teams we needed to continue to grow," Joe explains. "It made good sense to us then, and it makes good sense now. I mean, the numbers speak for themselves. We went from, in 2018, closing 250 units and $60M in a year, to last year, with loanDepot, closing 600 units and $200M. All because we had access to the personnel we needed and the loanDepot digital experience that streamlined the process."
Today, the Alpharetta, GA Branch has grown to become one of the most well-known mortgage lenders in Atlanta. Joe believes that it's the combination of digital technology and personal touch that makes all the difference.
"loanDepot offers a lot of advantages, including digital technology," he adds. "But one thing that also helps us stand out amongst some of our other competitors is that they're dealing with me, their loan officer. Every customer has my personal cell phone and I'm available 24/7."
And, because many of his customers are active duty, he's often working with time zone challenges.
"Whether they're coming from Germany, Korea or somewhere else, their 'awake time' is different than mine," he explains. "I'll get up at 2 o'clock in the morning to talk with them. And, for many of our competitors, they're not going to make themselves available for that level of support, so that makes me, and loanDepot, stand out."
Of loanDepot's VA products, he is especially proud of the VA Renovation loan. "The VA Reno loan is great. It is kind of mind boggling, when you think about it, that you can purchase a home, fully renovate it and finance 100 percent of it."
For Joe, the key to a successful transaction, in addition to thorough and consistent communication, is education.
"There's a lot of misinformation out there. For example, some veterans don't know that VA loan benefits exist. And many more who think they can only use their VA loan benefits once, so they're saving it for a retirement home. That's where I step in and explain 'Well, that's not true, so let me show you what's available to you.'"
And, as we mentioned, Joe has a gift for mentoring. During his Army career, he mentored groups of soldiers, starting with smaller groups and eventually supervising a company of more than 180 soldiers.
Today, Joe uses that experience to help ensure that his customers receive the best financial advice.
"I take the time to explain all of the potential benefits or challenges of the purchase," he explains. "I'm not just trying to close a loan. I want every customer to fully understand what they're getting into before they do it. Clear communication at all times yields the best end result."