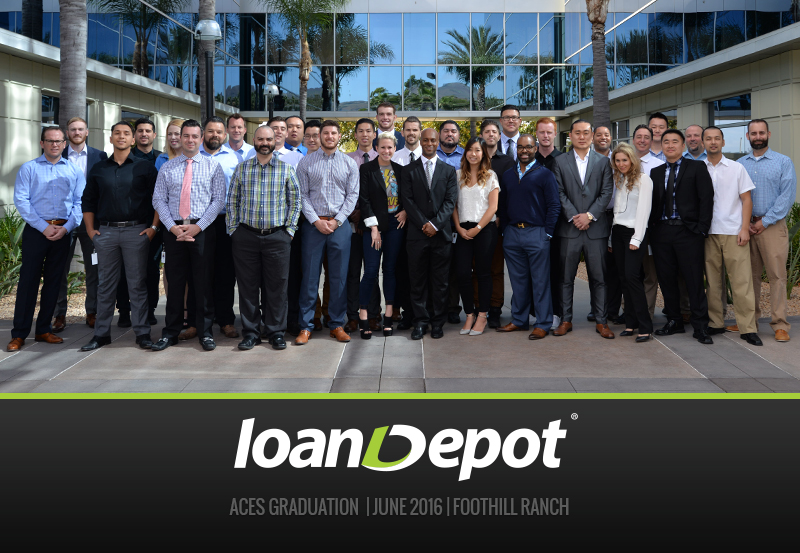 Are you interested in having a personal impact on the future of lending as a member of a fast growing category leader?
#TeamloanDepot is looking for professionals with commitment and a passion for sales who are interested in starting a new career as a licensed lending officer with our company.
As one of the 5,200 strong plus members of #TeamloanDepot, your efforts will help connect responsible borrowers nationwide with the loan products and services they need to fuel their lives and achieve their dreams.
Our newest ACES class starts October in Plano, Texas. ACES, which stand for Accelerated Career in Effective Sales, is loanDepot's proprietary and innovative paid mortgage sales training program. At the conclusion of the rigorous 10-week program, these sales professionals will be equipped with the skills and industry knowledge that will empower them to become top performers within the organization.
"We are actively building a powerhouse team at our Plano campus," explains Dennis Wynant, vice president, sales – Texas site leader. "Highly motivated sales professionals who join us will have the rare opportunity to enjoy exceptional compensation potential, as well as access to a variety of enviable company incentives. What their future looks like is largely up to them—how amazing is that?"
Designed for motivated sales professionals who are actively seeking a career in the financial industry, ACES is one of the best ways to "learn the ropes" of this fast-paced sector. To date, loanDepot's learning and development team has helped launch the futures of hundreds of successful ACES graduates.
"I came to loanDepot after two years of being a successful sales person in a different field," says Amy Johnson, executive licensed lending officer. "When I started at loanDepot, I immediately saw a difference in the way they treated their employees. With no knowledge about the mortgage industry, ACES gave me all the tools I needed to be successful. It was the best decision I ever made."
loanDepot's licensed lending officers enjoy full medical and dental benefits, access to a competitive 401K program, and 15 days of paid time off. loanDepot also offers continuous on-going training for a variety of areas of expertise, and internal promotion opportunities.
Interested in a rewarding career as a licensed lending officer, or know of someone who is?
Contact us
today.