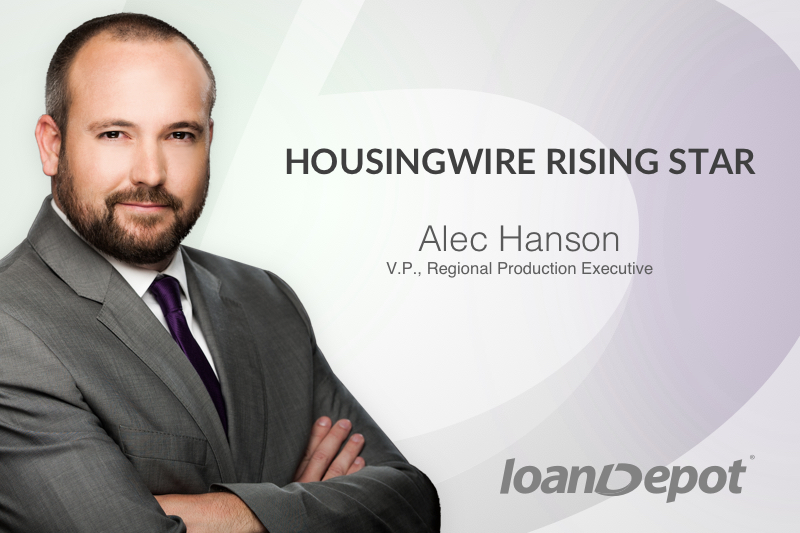 If you follow Alec Hanson on LinkedIn, you'll quickly notice he's constantly seeking innovative ways to be the ultimate producer himself while remaining a source of motivation and support for his team and colleagues so they can achieve the best results possible. So it comes as no surprise that Alec has been named as one of HousingWire's 2017 Rising Stars.
As loanDepot's Vice President, in Southern California for Regional Retail Production, Alec is well known for his high energy approach to tirelessly coaching his associates on how to take their work performance to greater levels. One of his mantras is "success takes hard work," and don't be afraid to do the work required.
An "excuses don't find me" professional, Alec learned early that the best possible mindset is to actively take responsibility for yourself and your success.
"If you can find the courage to start solving your problems with 'What if I…' you can tap into the unbelievable power of personal responsibility. In that place, things can change for the positive in ways unimaginable. In that space, we can do almost anything. When we take responsibility for our results and always hold ourselves accountable, we're creating opportunities to do something about them that can drive positive results."
To say that Alec is results-driven is an understatement. During his 14-year career in lending, he has grown to become a dynamic leader within the mortgage industry. His inherent drive and conviction breeds an environment of success and enthusiasm in the people with whom he works.
Since joining loanDepot in 2010, Alec has managed three branches and 65 employees. His volume has since grown 225% and branch infrastructure has grown 456% (now including 14 total branches). It's no surprise that he has spent many years in production as a nationally ranked, top 1% loan originator.
Alec has also received numerous awards throughout his career. In addition to being the No. 1 rookie originator in 2005, according to Mortgage Originator (now Scotsman Guide), he has been a top percentage producer annually. He's also a regular achiever, earning numerous President's Club awards at loanDepot.
Interested in joining a company where high-performing individuals like Alec Hanson are available to mentor you? Email your resume along with your area of interest to hello@loandepot.com.