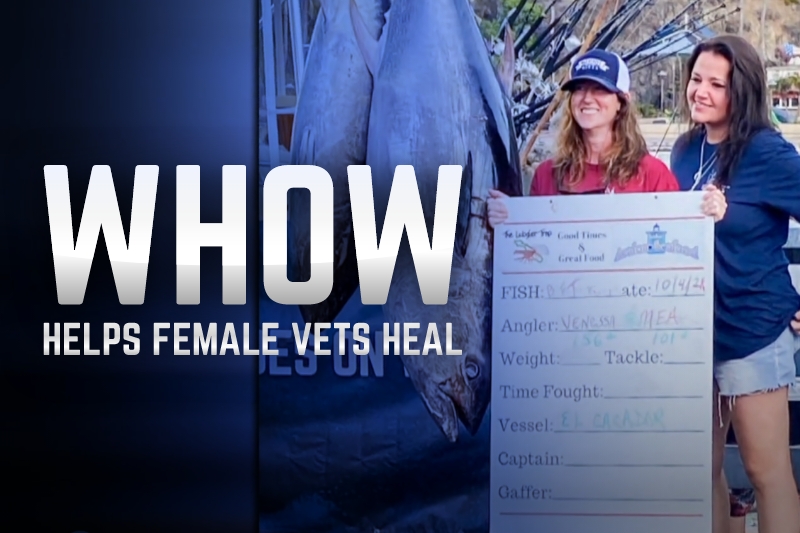 Ret. Sergeant Mea Peterson and Ret. Army Staff Sergeant (SSG) Vanessa Brown, both Purple Heart recipients, had never met each other before the 2021 War Heroes on Water (WHOW) Sportfishing Tournament. After being paired up as one of the first all-female veteran teams to participate, they joined CBS Evening News Reporter Lilia Luciano to talk about the challenges women veterans face when they return to civilian life.
"We need this just as much as the guys do, if not more so, because we're such a small group," says Peterson. She adds, "Any time we can start getting combat veterans who are females included with these organizations and in this type of stuff is great." Brown and Peterson finished the Tournament in sixth and seventh place, respectively.
War Heroes on Water Tournament Founder and loanDepot Founder and CEO Anthony Hsieh agrees. "Our goal in creating this tournament is to help our veterans get set on a path to healing. These brave men and women need and deserve our support and compassion as they return from their tours of duty. I am humbled beyond words by the outpouring of donations and contributions our tournament has received, which has given us the ability to expand both in number of veterans attending as well as the number of veterans we can support with services year-round."
Watch how the War Heroes on Water tournament made an impact on these women HERE.