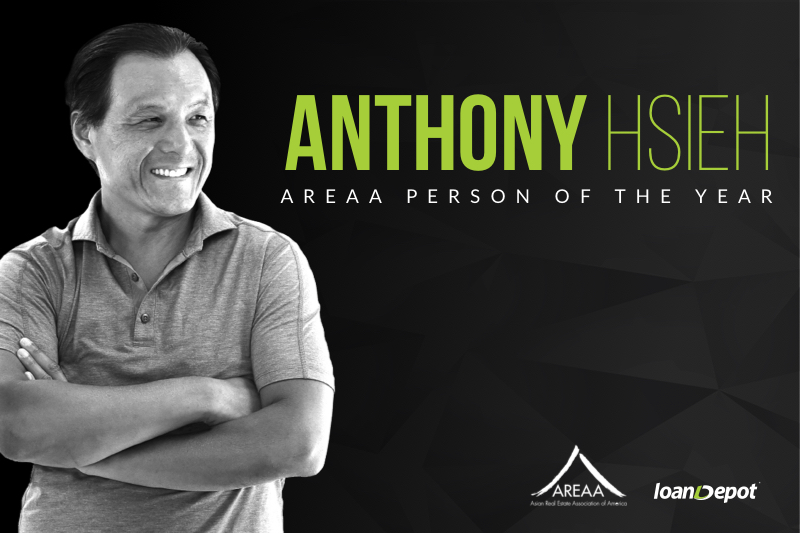 Today, our CEO and Chairman Anthony Hsieh was named the forthcoming recipient of the Person of the Year award given by the Asian Real Estate Association of America (AREAA). This honor will be bestowed in a gala presentation at their national conference taking place later this month. With more than three decades' success in the mortgage lending industry, Anthony is credited as a category visionary driving the digital evolution of modern lending.
"It's very humbling to be recognized as Person of the Year by AREAA," he said. "For me, it has been important to challenge the status quo and look for smarter ways to approach business. At loanDepot, our strategy focuses on pairing the industry's top talent with our proprietary and groundbreaking technology to provide home buyers with a best-in-class lending experience."
Anthony's overall contribution to the U.S. lending industry, especially with digital mortgage and dynamic credit underwriting, aligns with AREAA's stated mission to increase homeownership in the Asian American and Pacific Islander (AAPI) community. Partly due to the lack of dynamic credit decisioning, the AAPI homeownership rate lags behind the national average by nearly 10 percent.
"Mr. Hsieh's recognition celebrates the powerful business leadership and the significant impact of Asian American entrepreneurship," shared AREAA President Angie Lee of New York. "As the second largest non-bank retail lending firm in the U.S., loanDepot has reached $110 billion in loan fundings in just 7 years since founding in 2010. Beyond the business, Anthony is an immigrant whose personal story serves as inspiration for future generations. We cannot think of a more deserving person for this prestigious award than Anthony Hsieh."
Previous Person of the Year honorees include:
- Congresswoman Judy Chu, California's 27th district - the first Asian American female to serve on Capitol Hill and Secretary of Labor under President Barack Obama
- Alex Perrillo, Chairman Emeritus, previous President and CEO of Realogy Holdings
- Doreen Woo Ho, Commissioner of San Francisco Port Comission, previous President of Wells Fargo Consumer Credit Group
- Norman Mineta, two-time cabinet member under the Clinton and George W. Bush administrations as Secretary of Commerce and Secretary of Transportation, respectively
Beyond being honored by the organization, Anthony will also share trend-setting insights and answer questions with a lender-specific group meeting during the course of the conference. Look for highlights from his travels here and on LinkedIn in the weeks to come.