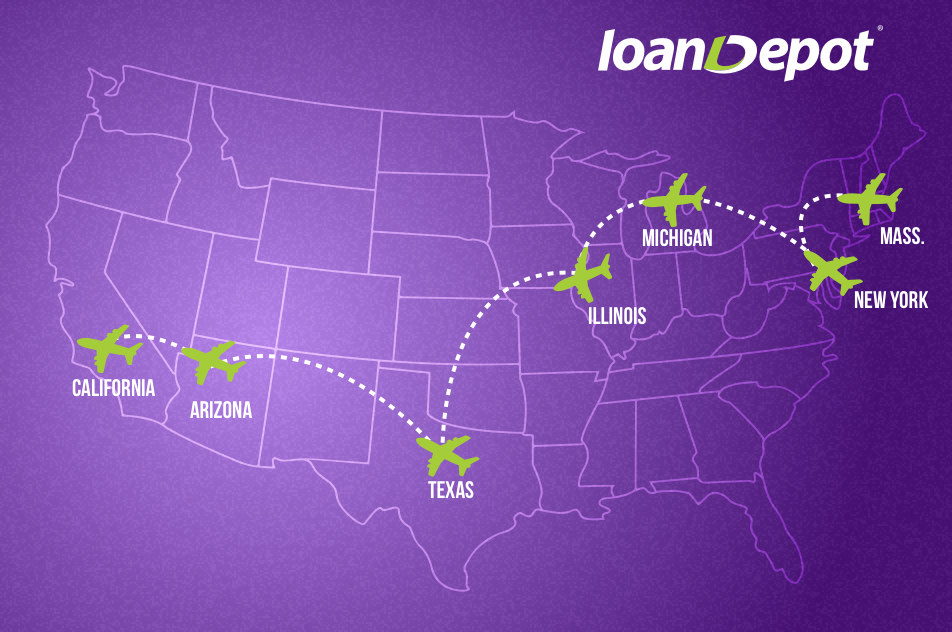 Being America's Lender takes thousands of committed licensed lending officers, talent technology experts and, most of all, a dedicated and enthusiastic CEO like our Chairman and Founder, Anthony Hsieh. Logging hundreds of thousands of miles annually, Hsieh regularly travels to loanDepot's campuses nationwide to meet with TeamloanDepot member teams to share his vision of modern lending and how we can better serve responsible borrowers in our great nation.
Next week, Hsieh embarks on his most ambitious itinerary yet: 13 Town Halls in 6 states in just 3 days. A true tour de force, Hsieh will personally meet and engage with thousands loanDepot associates. His goal? To share his insights for our company's growth for the immediate future as well as to talk about how the technology is transforming how borrowers access the funds they need to fuel their dreams.
Driven to learn what tools our associates feel will help them help American borrowers build better futures, Hsieh will be carefully listening to their feedback in these intimate Town Hall events.
This ambitious travel itinerary is just a fraction of the commitment Hsieh regularly makes to the company that he has grown from just a handful of employees. A tireless leader, Hsieh is up at 4:45am daily, rolling up his sleeves alongside the thousands of lending professionals who are proud to call loanDepot their home.
For associates in New York, Boston, Chicago, Detroit, Plano and Scottsdale, next week will be their opportunity to shake hands and personally meet the man who is transforming America's lending landscape. It should be an exciting time for everyone!
Interested in joining a company where the CEO rolls up his sleeves and works with you? Email your resume and area of interest to hello@loandepot.com.