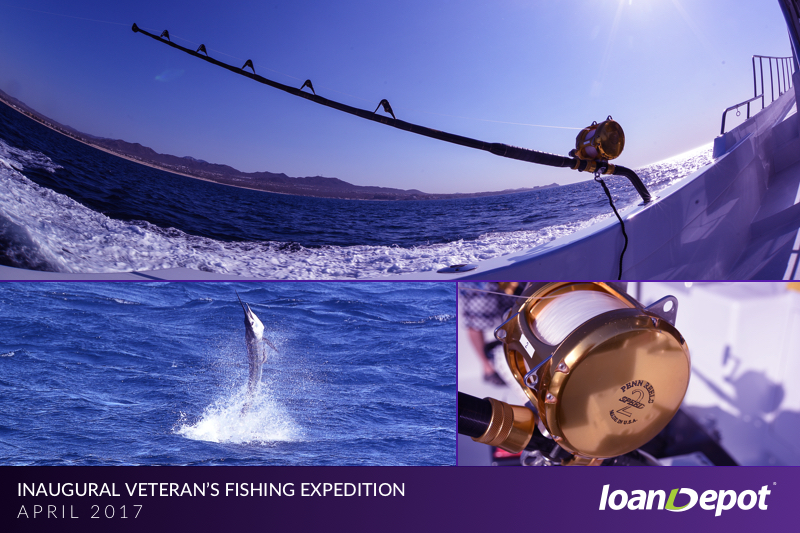 At loanDepot, the men and women who protect our way of life through military service hold a special place in our hearts. Their individual sacrifices to keep our country safe are enormous, and we're continuously looking for ways to honor their service.
Our CEO and Chairman Anthony Hsieh recently expressed appreciation for America's vets on social media. His friend and fellow angler, Terry Stewart, was so inspired by Hsieh's post he stepped up to help Hsieh create an unforgettable experience that kicks off with international travel aboard Hsieh's personal Gulfstream jet; three days on his world-class tournament-rigged fishing yacht, Bad Company; and delicious gourmet meals personally prepared by his private chef. To top it off, the once-in-a-life-time luxury adventure at one of Mexico's greatest destinations will be filmed by a national lifestyle documentary broadcast team.
"Anthony and I spoke at length about the possibilities on how we could show appreciation in an exciting and different way," said Stewart. "Once we realized the best thing to do was host a group of veterans on his world famous 100-foot fishing yacht, Bad Company, was the way to go, we started the ground work and the fun began."
Stewart, who explored more than a 100 veteran's organizations, landed on Freedom Alliance, a group whose aspirations and achievements proved to be exceptionally inspirational to Hsieh, as well as their approach to rehabilitation through recreational therapy.
"Freedom Alliance takes veterans to the most beautiful and peaceful settings around the world to help them heal," Stewart added. "It will be an honor to host these veterans aboard Bad Company as they take in the beauty of Cabo San Lucas and the adventure-filled waters of the Pacific."
Hsieh's close friend and Bad Company's world-class captain, Steve Lassley is already familiar with Freedom Alliance and their Outdoor Adventures program that creates a path to rehabilitation and is looking forward to welcoming the vets on board for this unforgettable experience.
When Bill Boyce, the renowned fisheries biologist and host of Destination: Baja Sur, heard about the trip, he immediately reached out to offer his support by filming this epic adventure. The trip, including the time on Hsieh's Gulfstream, the luxury accommodations and the sport fishing will all be captured in an upcoming episode of his show.
"The wars in which these heroes fought were public," say's Pepper Ailor, director of programs, Freedom Alliance. "It makes their internal, private battles all the more important to be told when they're ready to share. Quality time in a positive environment with supportive friends is essential for their well-being and recovery. The solitude of nature like that experienced on fishing expeditions provides the perfect setting. Anthony's and loanDepot's hospitality and care for our members will never be forgotten. This is going to be a trip and experience of a lifetime for all of us."
Check back for trip updates, and follow Hsieh on social media to get his perspectives on current economic conditions as well as the lending industry on LinkedIn and Twitter.