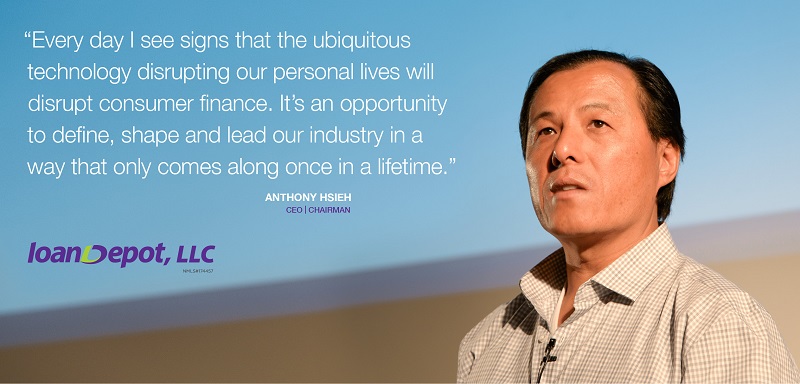 Reshaping a sector to better meet the needs of American borrowers by leveraging technological advancements and expanding product offerings is all in a day's work for financial visionary Anthony Hsieh. Recently, Hsieh shared his vision and insights on the future of lending during the Fifth Annual Goldman Sachs Financial Technology Conference in New York City.
"Every day I see signs that the ubiquitous technology disrupting our personal lives will disrupt consumer finance," Hsieh said. "It's an opportunity to define, shape and lead our industry in a way that only comes along once in a lifetime."
He joined other elite presenters and panelists from more than 20 leading public and private companies that are spearheading the technological revolution in the financial services industry. Topics covered included peer-to-peer lending, money transfer, merchant processing, big data analytics, online payment platforms and e-commerce. The one-day event, part of the company's Future of Finance series, was hosted by Goldman Sachs' Investment Banking Division.
During his Future of Finance and Lending panel discussion, Hsieh, together with executives from SoFi, Kabbage Inc. and Funbox, discussed his favorite topic: how technological innovations can make lending more agile and efficient while at the same time enable nonbank lenders to better anticipate borrowers' needs.
"Our vision is to deliver a diversified lending model sustainable in all market conditions," said Hsieh. "We look forward to leading the development of marketplace lending through the introduction of new products and services that provide credit solutions for borrowers with attractive returns for investors."
When the panel was asked to discuss customer acquisition strategies, Hsieh again pointed to the value of technology for creating stronger lead generation tools, as well as predicting changes in borrower spending habits.
Hsieh, who is known for his groundbreaking innovations that help make the lending process faster, more service-oriented and easier to understand, has long held that technology has the potential to revolutionize every level of consumer finance in ways that should not be underestimated.