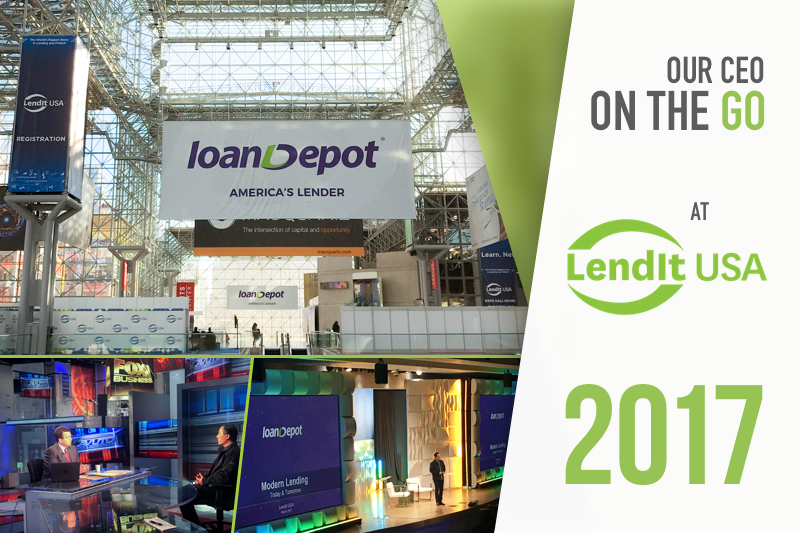 While March Madness usually refers to men's college basketball, at loanDepot it's our CEO Anthony Hsieh's travel schedule this month. Hsieh, who is highly committed to staying connected to employees at all levels of our company, is logging thousands of miles to share how loanDepot's proprietary technology is transforming America's lending landscape.
During his CEO Connect Tour, Hsieh has personally met and talked with thousands of #TeamloanDepot associates. A highly approachable hands-on leader, Hsieh prefers to share milestone company updates in person—actively welcoming feedback from all. In fact, Hsieh is well known for reading every single email sent by #TeamloanDepot associates and borrowers alike.
Beyond connecting with #TeamloanDepot, last week also found Hsieh in the Big Apple. First up, a highly regarded keynote address at LendIt USA, the world's biggest show in lending and fintech. LendIt USA brings together fintech experts and enthusiasts, legendary entrepreneurs, and top tier media to discuss the trends impacting the financial sector. You can view Hsieh's full keynote address here.
Then Hsieh shared his perspectives on the market and upcoming trends with the Wall Street Journal, CBNC, and Reuters, as well as with Neil Cavuto during an on-air appearance during Cavuto: Coast to Coast.
Hsieh closed his New York City stop with a panel discussion at Goldman Sachs, where he was joined by Bill Emerson, vice chairman, Rock Holdings; Josh Tonderys, president, Marlette; and Paul Fielding, head of capital markets, SoFi; for a panel on Tech-Enabled Lending.
For Hsieh, it's all in a day's work and an important part of his commitment to ensure loanDepot is America's employer and lender of choice. And, from what we saw on Twitter and LinkedIn during his New York City visit, his keynote and panel commentary were popular events.
Not one to rest, Hsieh stopped in Scottsdale, Arizona on Thursday, speaking directly with more members of our #TeamloanDepot family on how our continued technological innovations are already transforming America's lending landscape in ways unimaginable just a few years prior. Returning to California, Friday found Hsieh back to the podium with more company Town Hall events and another select CEO Connect luncheon.
For Hsieh, "business as usual" is always "busy as usual," as he travels the country inspiring his team, his colleagues and consumers with his vision of what is possible and making it so.
Interested in joining a company in which the CEO travels the country to personally share his vision with you? Email your resume and area of interest to hello@loandepot.com.