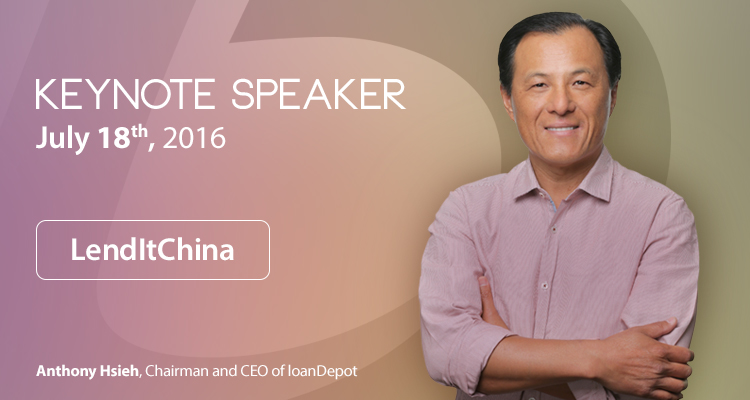 When the world's largest online lending conference is held in Shanghai, China next month, loanDepot Chairman and CEO Anthony Hsieh will take the podium as keynote speaker.
Hsieh, an industry innovator and influencer, will give the keynote speech at LendIt China, where leaders from the global FinTech community will convene to share best practices and learn about the latest trends in online lending. Known for building innovative, technology-based lending models, Hsieh will share industry insights, his insider experiences in building companies from the ground up, and what the future holds for online consumer lending.
Hosted at The Kerry Hotel in Pudong, Shanghai, Hsieh will give the keynote address on Monday, July 18, at 9:15 a.m. local time. He will also speak on a panel titled "Lending Platforms View on the U.S. Market," Sunday, July 17, at 3 p.m. In addition to Hsieh, confirmed panelists include Prosper's President Ron Suber and Avant's Co-Founder and CEO Al Goldstein.
Hsieh has built loanDepot into a lending powerhouse that has funded more than $70 billion in personal, purchase, refinance and home equity loans since 2010. With Hsieh at the helm, #TeamloanDepot has grown into a 5,200-strong nationwide team serving all 50 states. His 1,700-plus licensed loan officers are dedicated to helping responsible borrowers access the credit they need to fuel their lives and achieve their dreams.
For more information on the LendIt China conference in July, click here.