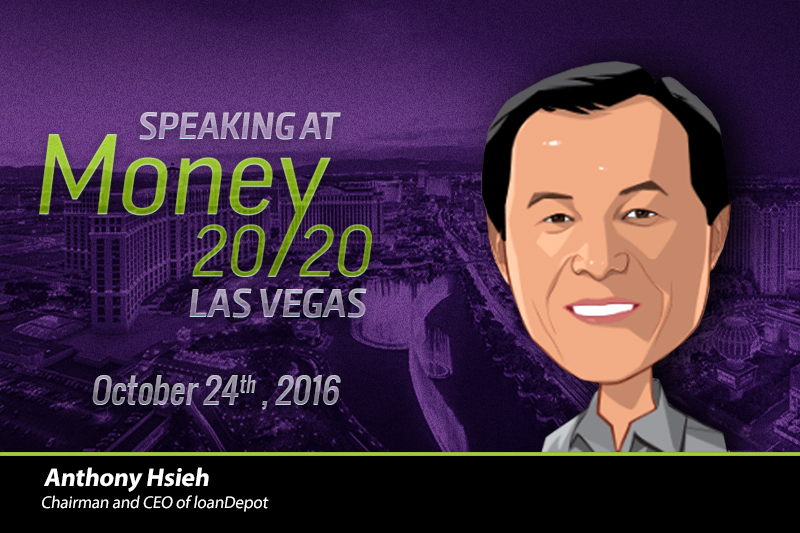 Where else would you expect to find loanDepot Chairman and CEO Anthony Hsieh than at the world's largest financial services innovation event—Money 20/20. As a lending industry disruptor and the architect of Modern Lending, Hsieh is in high demand to share his insights and vision of America's future lending landscape.
The Money 20/20 panel, Building a Billion-Dollar Financial Services Company: When Startups Grow Up, will be hosted Mon., Oct. 24th from 9:30-10:20am at the Venetian Hotel in Las Vegas. The highly anticipated session is expected to be extremely popular with the more than 10,000 attendees who are visiting from across the globe. Here, CEOs and other high-level executives will hear directly from Hsieh on how he has been able to build loanDepot into a lending powerhouse in six short years.
Hsieh will be joined on stage by Steve Abernethy, executive chairman of SquareTrade; Daniel Cohen, EVP and chairman of The Bancorp; Mike Praeger, co-founder and CEO of AvidXchange; and Tom Villante, chairman, CEO and co-founder of YapStone. Together, led by moderator Steve McLaughlin of FT Partners, they will discuss how they all are taking their companies to the next level.
For Hsieh, "next level" is actually more like giant strides. His vision, loanDepot, has already cracked the lending establishment ceiling, landing in the top 5 U.S. retail lending mortgage brands for 2016 alongside Wells Fargo, Quicken Loans, Bank of America and Chase.
Can't make it to Money 20/20 but want to follow the action? Follow us on LinkedIn, Facebook, Twitter and Instagram to stay up to date with all of the important details!