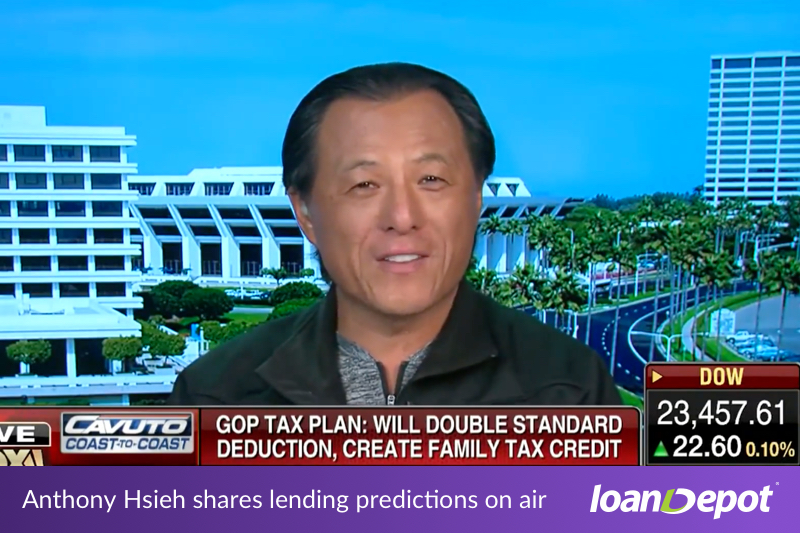 Thursday marked the latest appearance on national TV news by our CEO and Chairman (and very own financial news pundit) Anthony Hsieh, as he joined FOX Business' Cavuto: Coast to Coast to discuss interest rate changes and more. Hot on the heels of major tax reform news, Anthony shared his thoughts on the potential for resulting changes within the lending space affecting homeowners and home buyers, and the permanence of property as a sterling component of the American dream.
Anthony's comments dovetailed nicely into the company's latest public announcement about creating a new joint-venture partnership withan industry-leading real estate platform.
"Digital adoption continues to reshuffle the deck on how consumers interact with lenders and real estate service providers," Anthony said. "The platforms that combine best-in-class digital experiences with local market expertise will thrive."
Sharing more of his vision with us, Anthony noted that the real estate market is in the midst of digital disruption at a pace even greater than what we are seeing in our own mortgage industry. And while he has personally been studying trends, engaging with market participants, and understanding shifts taking place, his focus is both offensive and defensive. loanDepot is not just prepared for – but is ready to capitalize on – the opportunities that are being created from this disruption.
Curious about everything he touched on? Watch his appearance with Neil Cavuto here: