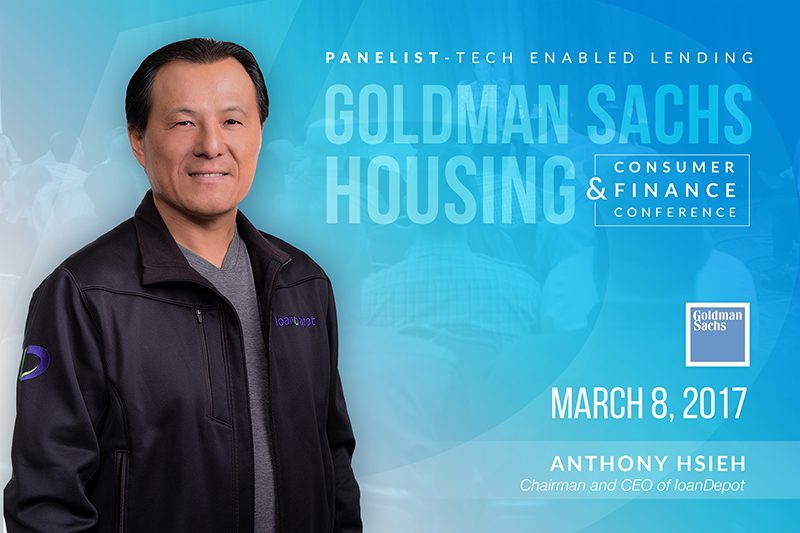 Fresh from his recent coast-to-coast CEO Connect tour, Chairman Anthony Hsieh gets back in the air for his upcoming keynote on Modern Lending: Today & Tomorrow at LendIt USA 2017 tomorrow in New York City. While logging thousands more air miles, Hsieh shared his near- and long-term vision for the company with more than 1,500 #TeamloanDepot associates during his seven city tour.
His CEO Connects are extremely popular with #TeamloanDepot associates, giving them a more intimate setting in which to hear directly from Hsieh and to ask him questions about the future of the company and modern lending. Those in attendance regularly comment about the high energy and enthusiasm generated at the events.
Our Executive Vice President of Direct Lending Production Chad Smith, who journeyed with Hsieh has this to say, "Anthony's energy is unparalleled. A true energizer, his infectious enthusiasm for the future of modern lending and our company always brings the crowd to its feet."
Added Lori Viera, Account Executive, LDWholesale, "I'm so excited for 2017. Our CEO, Anthony Hsieh is amazing and I am so proud to be working for a growing, smart and authentic company."
Paul Ramos, Southeast U.S. Regional Manager, Retail, said, "These opportunities are extremely motivating. The most important thing about loanDepot is that the communication is never one-sided; our leaders are always actively listening, asking for feedback and ideas. It's impressive that they always include our associates into developing the greater goal."
"Listening to Anthony break down his vision for the company's future is always inspiring," said Misti Snow, SVP Operations, LDWholesale. "He is the embodiment of great leadership and always has a great message."
Next stop for our CEO on the Go is tomorrow's keynote address at LendItUSA in New York City where he will address a sold out audience of more than 5,000 fintech experts, enthusiasts and entrepreneurs. And, while in the city, he will join Bill Emerson, Vice Chairman, Rock Holdings; Jeffrey Meiler, CEO and Founder, Marlette; and Mike Cagney, CEO, Chairman and Co-Founder, SoFi; for a Goldman Sachs panel on Tech Enabled Lending on Wed., March 8.
Upon his return to the west coast, Hsieh will continue his 'CEO on the Go' tour with more stops at loanDepot's western campuses.
Interested in joining a company in which the CEO travels the country to personally share his vision with you? Email your resume and area of interest to hello@loandepot.com.