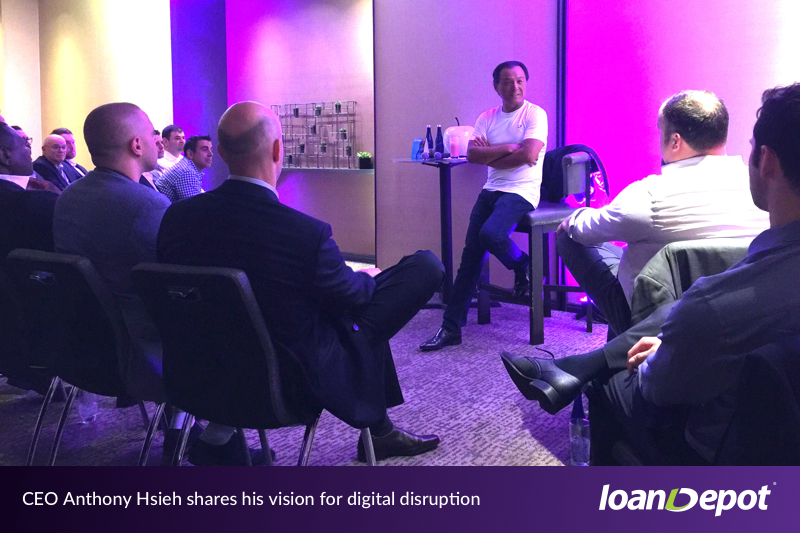 What does it take to shake up a sector and ignite a path that will forever change lending? Simply put: loanDepot CEO and Founder Anthony Hsieh.
Dedicated to becoming lending's architect for change, Hsieh is the digital disruptor who is rewriting history. And, true to his word, Hsieh and his technology dream team, are swiftly changing America's archaic lending landscape.
To maintain level of intensity, this past week Hsieh personally met with and share his vision and strategy with hundreds of coast-to-coast #TeamloanDepot associates. This week alone, Anthony logged thousands of miles and hundreds of hours as he shared breakfast, lunch and dinner with loanDepot associates in Florida, Massachusetts, New York, New Jersey, Tennessee, Texas and Southern California.
Throughout his journey, enthusiastic associates shared reactions to Anthony's energized presentations on their personal social media channels.
Posted Eric Declerq, senior vice president, production, "Anthony Hsieh spent time this morning casting his vision with part of our Tri-state team, and it was amazing. He's laser-focused on winning!"
David Harrington, vice president, production, shared with his LinkedIn followers: "Great day with Anthony meeting 80 of our loan officers and branch managers. A company that has no vision on the industry and the future is literally flying blind."
And Paul Rego, senior loan officer, had this to share: "I had the opportunity to meet our CEO today and I'm very happy I went. The insight about the industry and what's coming next was very inspiring. The digital disruption Anthony talks about is real and we are positioned to not only lead the industry, but to do things that create something that was never there before for borrowers."
Anthony's mission this week was simple and direct: To give loanDepot associates an exclusive and intimate glimpse into his vision for the company's near- and long-term future. He's also demonstrating how loanDepot is already disrupting lending through mello™, our proprietary end-to-end digital lending platform.
"Ignoring digital disruption is not a strategy," Anthony recently stated. "Digital conversion to the mortgage industry is here."
Hsieh's ambitious trip is merely a snapshot of the time he dedicates to loanDepot and its 6,000+ team. As we head into the second half of the years, loanDepot is aggressively expanding in all 50 states, with recruiting events being held every six weeks at many of its campuses, including a Social Open House being held in two weeks to debut the company's newest Direct campus in Irvine, California.
Want to join a team where your CEO is actively sharing his corporate vision and welcomes your opinions? Email your resume and area of interest to hello@loandepot.com.