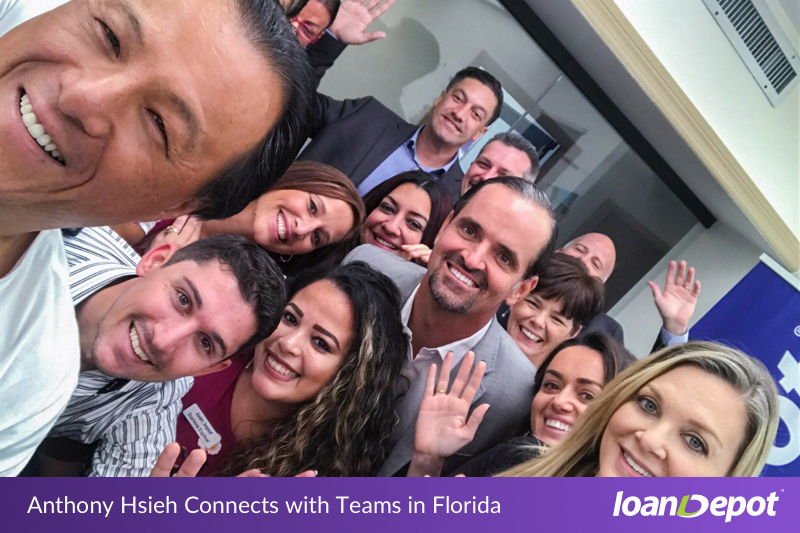 As states across the Southeast continue to recover from the effects of recent storm systems, our CEO and Chairman Anthony Hsieh traveled this week to Florida to meet with our teams servicing impacted consumers in Fort Lauderdale and Tampa. Our teams on the ground in the Sunshine State met with Anthony for the kind of deep executive engagement that's a hallmark of his personal approach to communication and culture here at loanDepot. Their discussions included how we'll best to serve our consumers – and the stricken Floridian community at large – in recovery from these severe weather impacts.
"I appreciated that Anthony met with us and called for questions," said Eileen Daly. "I love that he let us in on his vision of the road ahead. Change is scary to many, but I appreciate that these are considered adjustments that have been years in the making. The new products and additional services that he shared with us will keep us in the forefront for years to come – continuing to lead the digital evolution of lending."
Anthony's agenda included meetings with loanDepot team members across the Florida peninsula. He shared more around his collective thoughts regarding the future of the industry, how loanDepot continues to drive a consumer-centric lending experience, and the importance of setting up our team members for success.
"For Anthony to take time out of his schedule to travel here and connect with us in person is incredible," said Ben Eachus. "Meeting him personally and getting to hear and see his direction for the future reconfirm again the reasons that I came to join loanDepot initially. I've always believed that leadership at the top sets a charter for leaders of all levels of an organization – Anthony is proof of that!"
In Tampa, Anthony joined the lending store team for lunch where he had an up-close opportunity to hear their personal questions about what's next for the organization as we help Floridians recover from Hurricane Irma's impact. "Anthony's vision is compelling," said David Rosa. "The culture at loanDepot is positive and supportive. I'm all in."
Across all the sessions, the message to team was clear: team loanDepot stands committed to taking care of consumers and helping them recover in the wake of Hurricane Irma. With our ongoing strategy of pairing revolutionary technology with top talent – both across the state of Florida and from coast to coast – we'll be there when consumers need us, continuing to change the way America thinks about lending.