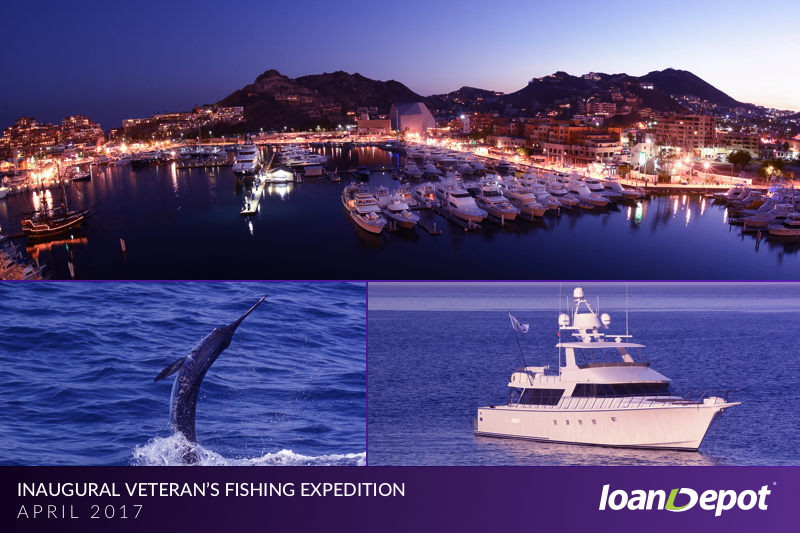 #TeamloanDepot's connection to the veteran community goes far beyond helping qualified customers secure the best VA home loan options. Our culture, from our licensed loan officers to our CEO and Chairman, Anthony Hsieh, is inspired by the spirit of giving back to active duty military and veterans.
In just a few weeks, from April 28 to 30, Hsieh will be hosting a group of veterans on a once-in-a-lifetime adventure in Cabo San Lucas, Mexico. The veterans will be flown to Mexico on Hsieh's personal Gulfstream jet, and then experience world-class fishing aboard his tournament-rigged 100-foot yacht, Bad Company. The trip will be featured on Destination: Baja Sur, a travel/fishing series on the World Fishing Network hosted by Bill Boyce.
This exclusive trip came together last month after Hsieh posted his support of veterans on social media. Through the assistance of his friend Terry Stewart, #TeamloanDepot reached out to Freedom Alliance, a Dulles, Virginia-based charity that supports the rehabilitation needs of wounded service members, combat veterans, and military families. "loanDepot is making a difference and saving lives by hosting this trip. We are so grateful to folks like Anthony Hsieh who want to say thank you to men and women who have sacrificed so much to keep us safe," says Calvin Coolidge, executive director of Freedom Alliance.
Coolidge says that while doing activities they love with others who have similar experiences, veterans are helped forward on their healing process. "These vets have gone on multiple deployments, and have spent years away from their families," he says. "A lot of the wounds of war are invisible and stay with you forever. A trip like this helps connect veterans to each other, peer to peer. The great outdoors helps you to heal."
After our first blog post on this trip was published, members of #TeamloanDepot expressed enthusiasm that our CEO is generously giving back to veterans.
Steven Dominguez, an executive licensed lending officer in Foothill Ranch, is a former Sergeant in the Marine Corps who served from 2005 to 2010. Dominguez was deployed twice to Iraq during Operation Iraqi Freedom. Dominguez says, "That's so exciting for them. When I see something like this going on or I see our CEO collecting for Toys for Tots with marines from Camp Pendleton, I see that we're looking out for vets above or beyond what a normal company would. It's definitely admirable."
Leslie Ortega, a licensed lending officer in the Plano office and a former member of the Army from 2006 to 2008 stationed overseas in Germany, says, "It's wonderful working for someone who supports veterans. It's easy to say you support them and you stand for the troops. But it's completely different when you take steps to thank them for their sacrifice. Going on a private yacht with Anthony Hsieh is something these veterans will remember the rest of their lives."
Check back here for more details about the April 28-30 fishing trip, and about how #TeamloanDepot assists the veteran community.
Do you want to join an organization that values giving back, and makes a genuine difference in people's lives? Email your resume and area of interest to hello@loandepot.com.