When it comes to having fun, #TeamloanDepot knows how to get it done. Recently, our President's Club members and their guests celebrated at the elegant ocean-front home of our CEO and founder Anthony Hsieh where they dined on incredible Southern California cuisine as they enjoy the memorable view of Newport Harbor.
"I've had a lot of parties at my house, and I've had 300 people at my home before," laughed CEO Anthony Hsieh the following day. "But last night felt more like 400. There was so much laughter and friendship in the room."
For retail top performers, this year's annual celebration came in the form of a four-day weekend at the luxurious Pelican Hill Resort in Newport Beach, California. The world-renowned venue, which takes inspiration from the work of 16th century Italian architect Andrea Palladio, has earned some of the highest awards in the hospitality industry.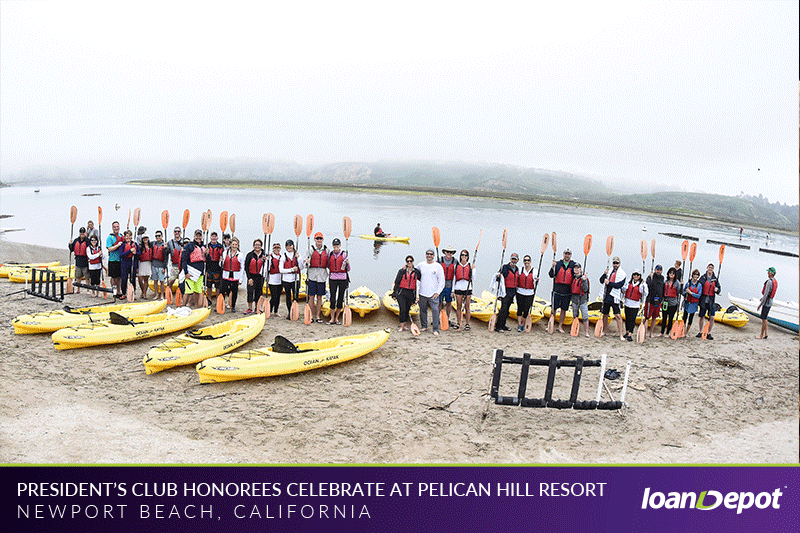 From relaxing around the Coliseum Pool that features 1.1 million hand-cut mosaic tiles, to playing 18 holes on the Glenn Deck-designed golf course, to enjoying what has been voted as the No. 1 spa in California by Conde Nast Traveler, the rest and relaxation component of the trip was well managed. But the jewel of the trip was an evening of dinner and conversation at our CEO's own home.
The weekend finished with a special presentation by Hsieh, along with exciting company announcements, including a surprise demonstration of mello, loanDepot's game-changing proprietary lending technology and is loanDepot's investment into modern lending's future.
The end-to-end lending ecosystem will provide borrowers with 24/7 access to a secure lending portal that delivers accurate quotes, pricing, offers and pre-qualification letters in mere minutes. A first-of-its-kind user experience for consumers, the platform will build onto our consumer portal, along with a mobile point of sale system and a fully digital mortgage loan application process.
Psyched by the Southern California sunshine, meeting and making new friends and enjoying a celebratory dinner our CEO's home, our President's Club honorees returned home—excited for what the future will bring, and hopeful that their efforts will earn them a spot at next year's table.
Interested in joining a company whose CEO takes a personal interest in your successes and invests millions to create the tools you need to find success? Send us your resume with your area of interest to hello@loandepot.com.