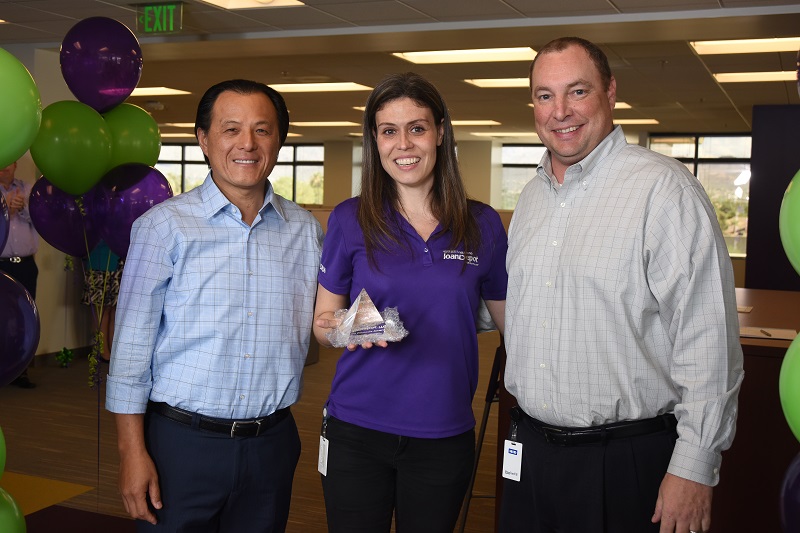 A consummate professional, April Bain is dedicated to the details—and supporting her fellow #TeamloanDepot associates. April and her team ensure that our Scottsdale campus runs smoothly so our associates can focus on helping American borrowers achieve their financial dreams. Her advice to current and future #TeamloanDepot associates:
"All of us are one big family, and we're here to help each another," April explains. "Never be afraid to reach out to team members, we're here to support each other."
Not long after joining the company in June of 2013, April found herself helping with the Arizona team's move to a new building. Working with Rick Burns, director of administrative services, and Jeff Torres, facilities manager, April helped to ensure a seamless transition into the new facility.
Since that time, the team has doubled in size – and use of space – in Scottsdale. As loanDepot has grown, so has April's responsibilities and role.
"The people I get to work with are amazing," says April. "It is such a pleasure to do what I do every day, I absolutely love it."
The speedy pace at which the Arizona team continues to grow is also April's biggest challenge.
"We are bringing a lot of people into the family in a short amount of time," explains April. "It's a great challenge, but awesome at the same time. For example, we're starting a new ACES and a new SELECT training, so there are many details to manage."
Accelerated Career in Effective Sales (ACES) and Successful Enterprise Learning Environment Career Training (SELECT) are two training programs that are offered to sales and processing associates. These continuing education training courses enable mortgage bankers to attain up to 11 licenses through dedicated 10-week class time. SELECT offers in-depth, hands-on training in industry best practices that helps ensure perfection with each loan.
"Family" is a word you'll hear often from April when she references #TeamloanDepot.
"At a recent employee recognition event, all of the honorees used the word 'family' in their acceptance speech and referred to the office as being a family. Everything is so positive, you just feel good coming in every day."
Another benefit is the involvement of the loanDepot executive team.
"People know that our executives care," explains April. "Any time our CEO, Anthony Hsieh, or other executives from our California headquarters come here, everyone gets very excited. They appreciate that our executive team is very involved."
Executives are equally impressed with April's positive attitude and exceptional performance.
"Solutions-oriented, runs all company functions, on the ready for emergencies, and willing to put in the time needed to get the job done, April adds tremendous value to our Arizona office," says Senior Vice President, Production, Bryan Owen.
April, who recently won a Pinnacle Award – a prestigious honor offered to #TeamloanDepot associates – looks forward to her future with loanDepot and with the challenges it will bring.
"I hope to be right here keeping the office running and the events and town halls supported," April adds. "And I hope to be involved in keeping all of our TeamloanDepot associates engaged."
Here's to a happy and promising 2016 and to seeing April's wishes come true.
Would you like to join #TeamloanDepot? Check out our current opportunities here. Interested in learning more about ACES or SELECT? Email us at careers@loandepot.com for more information.