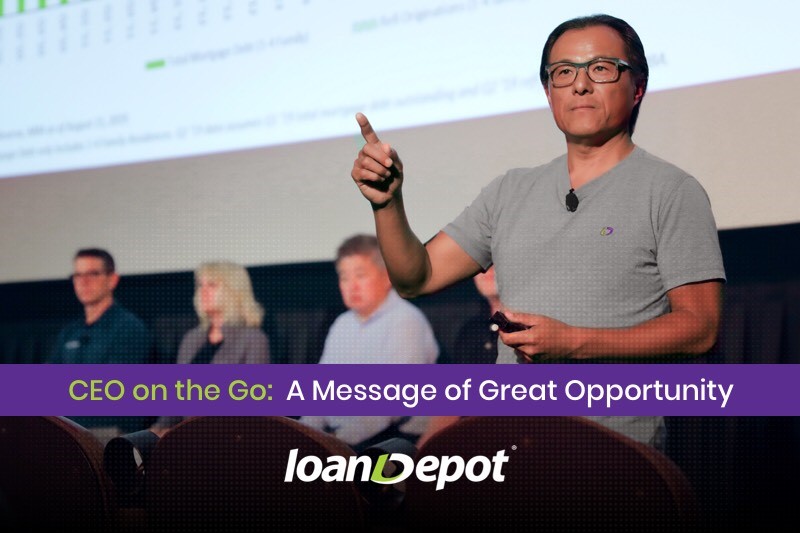 loanDepot is uniquely positioned for unprecedented growth in the coming months and years, and no one is more excited about the opportunities that it holds for our customers and Team loanDepot than our CEO, Anthony Hsieh. And that's the message that he's sharing as he, together with select members of senior leadership, continue their multi-state CEO Connect and Town Hall tour to our Direct sites over the next few weeks. During these visits, they are sharing with Team loanDepot Direct associates what they envision for the company as the market shifts.
"A company without a plan is a company that plans to fail," said Hsieh to attendees of the Foothill Ranch Direct Town Hall. He went on to show the team the company's impressive year over year growth, which has transpired thanks to the extensive planning and projections that senior leadership and the capital markets team have put into place.
"We funded 4.35B last month, a company record, and we anticipate we'll continue to break records as we move through September and October," added Hsieh. "I believe we will continue to grow exponentially over the next two years, which will bring incredible opportunities for everyone."
To date, Hsieh and senior leadership have visited the company's Arizona and Southern California Direct locations, with plans to visit Michigan, Tennessee and Texas in the coming weeks. These visits give loanDepot associates the opportunity to hear first-hand from their CEO about the many initiatives that are in the works to prepare loanDepot for an anticipated surge in growth both in sales volume and employee count.
As the company prepares to celebrate its 10th anniversary in January of 2020, it stands poised to continue to break records through Q3 and well into Q4. It is a time, adds Hsieh, of unprecedented growth and exceptional opportunity.
"Our company is so well positioned," Hsieh added. "This is just the start of a cycle of great opportunity for Team loanDepot."
In fact, at this time, there are numerous open fulfillment and sales opportunities available at all of the company's direct locations, with remote roles also being filled. Better yet, there are positions available for both experienced and entry level candidates.
COO Tammy Richards joined Anthony on stage to discuss the many exciting technological updates that she and her team will be implementing in the coming weeks and months, all designed to enable Team loanDepot to serve more customers faster and with greater ease and surety than anyone else in the industry.
"We're all here because Anthony is a visionary," said Richards. "And my team and I want to be able to build the technology that can execute that vision for him."
Anthony and Tammy were joined by Brian Lee, SVP National Processing, Pat Flanagan, Executive Vice President, Alex Madonna, EVP, Direct Sales, and Michael Guazon, SVP Sales, each of whom took the opportunity to share their perspectives on how loanDepot is positioned for exponential growth and how their teams are supporting the effort.
"What's going to separate us from our competition is you," said Madonna as he addressed the Foothill Ranch Direct team. "You can build all the technology you want, and you can have the greatest CEO in America, which we do, but if you don't have the greatest sales organization, the human capital that it takes to win, none of that matters, but in my experience the higher the caliber the human beings that you assemble, that all takes care of itself."
"We have the wisdom, intelligence and sophistication to accelerate and scale further," added Hsieh. "There is an unparalleled amount of career advancement opportunities for people who have the attitude, aptitude and desire to grow into new roles and responsibilities."
Interested in joining a company that is poised for exceptional growth and offers unlimited career opportunities? Email us with your resume and area of interest to: HiThere@loandepot.com.