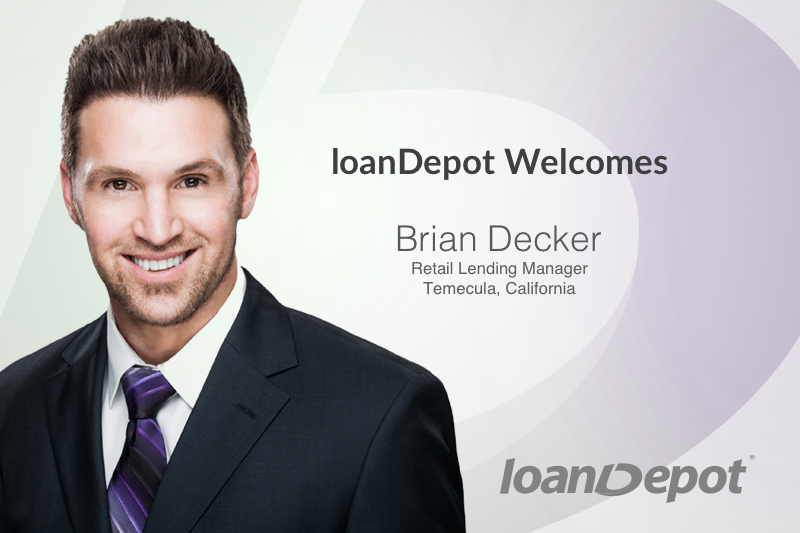 "I was inspired by the vision of loanDepot CEO Anthony Hsieh," said Brian Decker, who holds the elite distinction of being among the nation's top-30 loan originators. "loanDepot is shaping the future of our industry, and I knew that I wanted to be part of that narrative."
Brian took that inspiration one step further. He not only joined #teamloanDepot and its more than 1,700 licensed loan officers across the U.S. – he has enthusiastically accepted the position of Retail Lending Manager at the company's newest location in Temecula, California. As the latest in a line of next-generation loanDepot retail lending stores, it will expand under Brian's leadership over the coming months – from a staff of 15 to 25.
Among the numerous innovations that the next-gen Temecula store features is mello™, loanDepot's proprietary digital lending platform. mello™ includes an intuitive web-based consumer portal, a state-of-the-art mobile point-of-sale system, and a fully digital mortgage loan application experience. Consumers can choose how high touch or high tech (or a combination of the two) that they want their experience to be.
"Working with consumers every day, I understand and appreciate that they crave information about the loan process," said Brian. "Providing it to them in a way that they can really grasp on a personal level is crucial."
Brian's mortgage-industry journey began 12 years ago. Since then, his reputation as a top producer has been well earned, closing 586 loans with more than $204 million in sales in 2016, according to Scotsman Guide, the leading home-lending industry data source. He will be right at home at America's lender, which is Brian's second among companies with the most top-ranked originators.
"At loanDepot, it's a thrill and a privilege to be part of our CEO's vision," said Brian. "I look forward to providing our consumers with the best-in-class online experience and the finest "in-person" experience to help them achieve the dream of owning their own home."
To find out how you can join our team of elite lending professionals, contact us today at hello@loandepot.com with your resume and areas of interest.