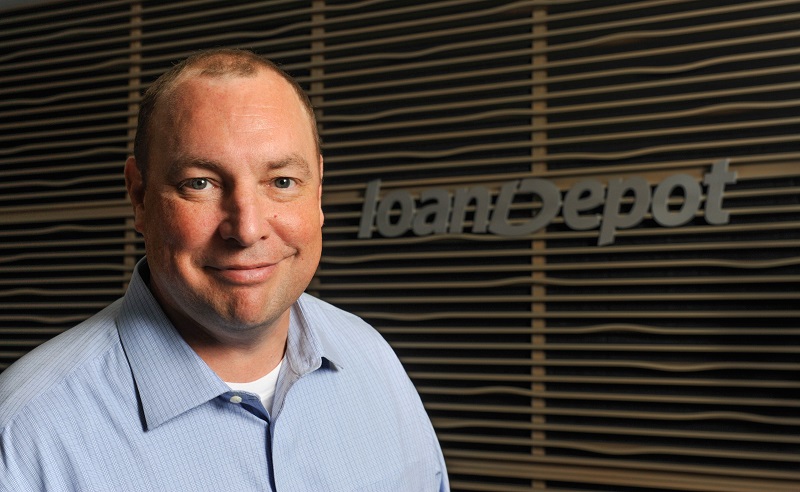 What is loanDepot's most valuable asset? For Senior Vice President of Production Bryan Owen, the answer is simple: it's the people.
"When you're interviewing, you want to hire people with talent," explains Owen. "Anthony (Hsieh, loanDepot Founder and CEO) always talks about attitude and ability, and I don't think you could say it better than that. The ability is the easier thing to see – you can see a candidate's ability in an interview. Attitude is more difficult. Attitude is how someone is going to react in a stressful environment. We're looking for people who, no matter what, believe in what we're doing, and remain calm when it gets stressful."
Owen, an 18-year mortgage industry veteran, joined loanDepot six months ago and is responsible for the loanDepot direct lending offices in Scottsdale, Arizona. It was his interest in joining Hsieh and being part of the loanDepot vision that inspired Bryan to move his family from their Louisville, Kentucky, roots to the western United States.
"I have worked with Chad (Smith) and Rian Furey, our (chief operating officer of retail direct lending) before," explains Owen. "So to work with these folks again, and to be in any organization that is led by Anthony was really attractive to me."
"Anthony is more than impressive," Owens adds. "He's energetic and enthusiastic. But it's his vision – his ability to see the industry in a different way – and turn it into a reality is unlike anyone I've ever worked with, and, to me, that's very special."
Six months in, Owen is not looking back. "This is the best decision I've ever made," he declares. "It's been great – and the people are great."
And it's the people – and the company culture – that are a favorite topic of Owen's.
"I've never had anybody work for me," he says. "I work for them."
With more than 200 #TeamloanDepot associates in Scottsdale and expectations to double that in short order, Owen has a lot of work ahead of him, and he knows it.
"The biggest challenge you face when you initially join an organization is getting the people who have been there longer to buy in to your direction," Owen explains. "You can't ask people to respect you or to trust you – you build that. But once you've got their buy-in, you can start to implement the initiatives you're driving towards. You can start talking about culture. You can start talking about being a family. You can even start talking about numbers."
Owen looks to his team as a continued major support for the organization. "There are simply no limitations on how big we can get," he says. "It simply depends on what we want to do – what our vision is."
He also is big on rallying his team as their strongest advocate.
"When you come into an organization like ours, you're likely to work long hours and really focus on perfecting your skills. In return we're going to give you a great return on that investment in terms of paycheck, a career, and opportunity for advancement. When that happens, you need to leave all of your cynicism at the door, and that can be hard to do," Owen explains. "People are naturally cynical, but you have to let that go. When you join loanDepot, you're going to have a tremendous experience."
But, cautions Owen, he balances that with the realities of the job.
"That doesn't mean every day is going to be great; it just means that from experience – and I've been doing mortgages for a long time – the culture here is real. It's not just conversation."
Owen also approaches his days with an eye to how he can help his team.
"Every decision I've made – and those I've seen other loanDepot executives make – has been made with an eye on 'what effect does that have on our folks,' and that's a pretty special thing."
His recommendation for anyone joining the company? "You have to outwork the job and you have to believe in what you are doing."
If you are committed, he adds, you can accomplish anything.
"I love working here," Owens says. "Every day I feel I am making a huge difference – and the company definitely makes a huge difference."