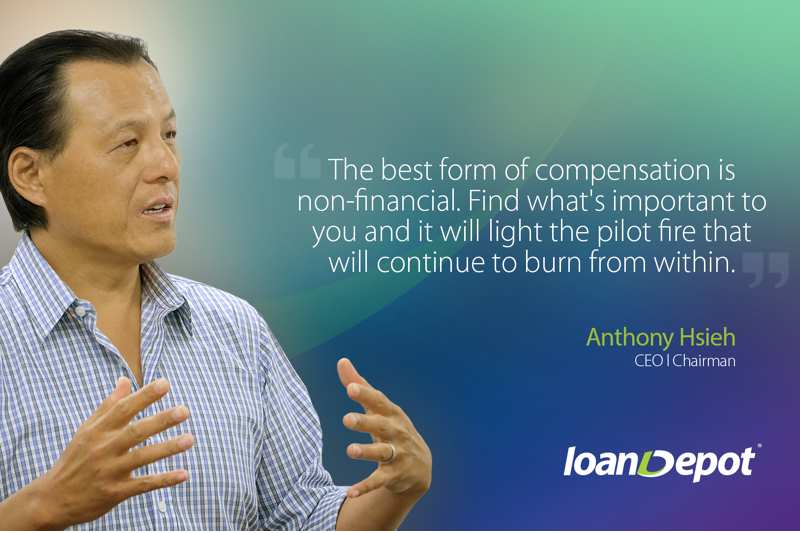 Just hit the 30-year mark in the mortgage industry. Time has flown by. I'm extremely thankful to be part of the loanDepot family. I work with fantastic leaders, not to mention some of the best salespeople in any industry. Throughout my career, I've worked at respectable organizations, however I have never been at a company quite like loanDepot. The extensive array of tools that we give our salespeople to be successful and reach new heights is unrivaled.
As I reflect, the one thing that comes to mind is how difficult it is to build and grow a successful organization. Having "cool stuff" to sell is helpful, but building a successful team and company is so much more than that. If I had to point to one essential ingredient, that key ingredient would be the right human capital. When you combine a company that has it all, with the right people and veracious leaders keeping you ahead of the competition, there is no way you can lose!
I believe even when you have the smartest and hardest working people in your company, success is not always certain. I've seen many businesses fail throughout my career. There are mortgage companies today that have become shrewd and think they understand what it takes to grow a sustainable company, but life still has a way of repeating itself. There are companies out there today that just won't make it. It takes only one aggressive blip in the market and many of these companies will be running for the exits.
Without having visionary leaders to mix all of the key components together, you will just have a cake that crumbles. Our key leaders, Anthony Hsieh, David Norris, Dean Bloxom and Dan Hanson understand exactly what we need and what we need to do to be #1. It's comforting to know that these gentlemen are navigating the ship.
Our goal is to become the largest and best mortgage lender in the industry. The abundant communication from our leadership at loanDepot and the verbalization of our collective goals are extremely motivating! Communication is not one-sided here. Our leaders are actively listening and asking for feedback, ideas and thoughts, integrating all of our employees into the greater goal.
If you want to be a part of a team that is doing all the right things to be first in class, there is no better time than now to invest in your future and educate yourself on what we are doing here. In my 30 years in the mortgage industry, I have never worked at a company that is so incredibly rewarding! Along with having a job that is fulfilling in every way, loanDepot is a family and that's what is most important to me!
We truly do have it all here at loanDepot: innovative products; cutting-edge technology; pricing; aggressive compensation plans; benefits; marketing; job advancement; leadership; financial strength; support, training and superior operations!
Send me an email or give me a call. If you like winning, I would love to speak with you!