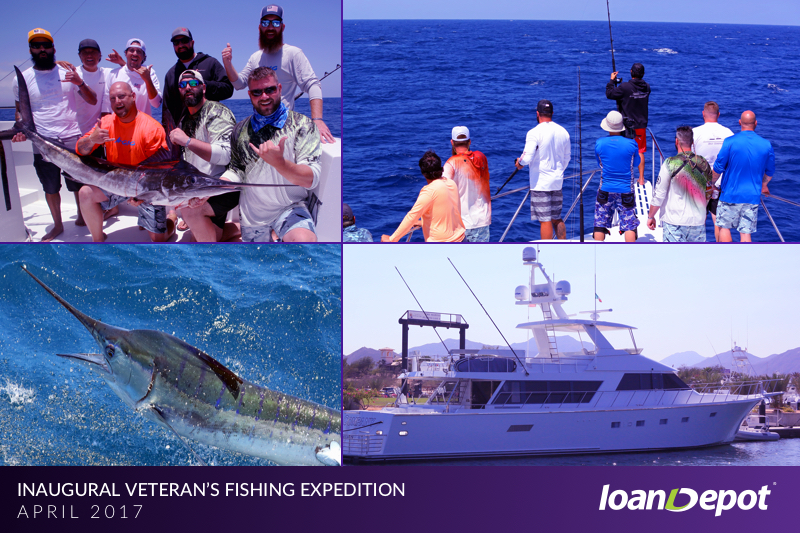 This past weekend our CEO Anthony Hsieh hosted seven decorated military veterans from around the country on a three-day fishing excursion in Cabo San Lucas, Mexico aboard his tournament-rigged 100-foot yacht, Bad Company. The trip was truly the adventure of a lifetime for his guests, who were chosen through the help of Freedom Alliance, a charity that supports the rehabilitation needs of wounded service members, combat veterans, and military families.
"Spending the entire weekend with seven American heroes impacted me greatly. Among them, multiple Purple Hearts, Bronze Stars with "V" for valor. These guys have been exposed to multiple IED, RPG, and mortar blasts, resulting in traumatic brain injury," says Hsieh. "I can't describe the feeling of fishing with these heroes. No egos, all team attitude, amazing guys. We, as Americans, just don't know how lucky we are to have these heroes keeping us safe."
In fact, Hsieh was so moved by the experience he's already planning another trip for additional veterans in 2018. "As a CEO, I thought I know the term 'team.' These guys know the real meaning of team," he says. "This is going to be an annual event, and I'd like to develop this into bigger and even better experience next year."
Calvin Coolidge, executive director of Freedom Alliance, says the experience was healing and powerful for all of the veterans.
"Not only did Anthony offer such wonderful hospitality and participate in everything we did, but he was handing the rods off, encouraging them and cheering them on," says Coolidge. "We are so grateful to loanDepot for making this amazing, wonderful experience happen."
Coolidge said one of the most poignant moments of the trip was watching all of the veterans working together to hook a marlin.
"Two guys were bringing in the fish, but everyone was there helping each other," he recalls. "There was such a camaraderie being there. Between those moments of excitement, they also hung out together and talked, making lifetime friendships. It was so powerful for them."
The trip was filmed for an upcoming episode of Destination: Baja Sur, a travel/fishing series on the World Fishing Network hosted by Bill Boyce.
"The footage we captured will surely make a very compelling TV show," says Boyce. "The vets were all ecstatic with the trip. The biggest positive was the opportunity for them all to be together as a fraternity and share stories and their personal issues about settling into civilian life. The rapport with the Bad Company crew was pure magic."
Over the course of the trip, the group baited more than 60 fish, and caught 5 striped marlin and 4 skipjack.
Interested in pursuing your dream job at a company that values the contributions of veterans? Email your resume with your area of interest to hello@loandepot.com.