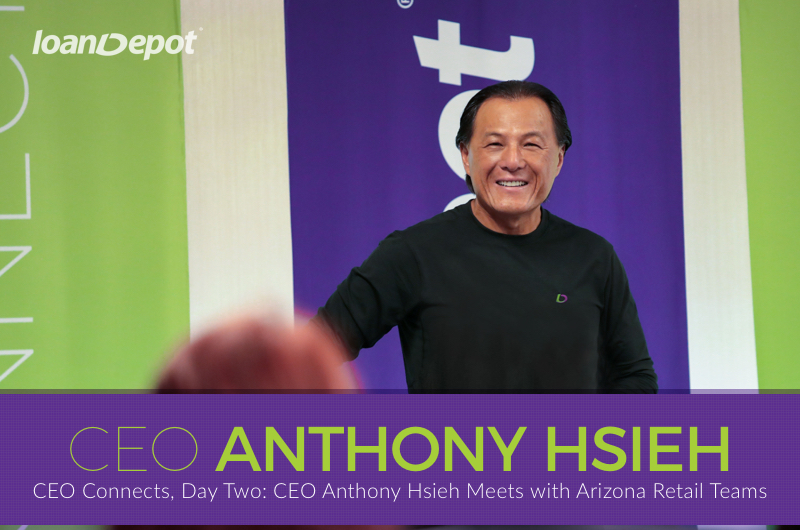 CEO Anthony Hsieh is well known in the industry for many things, such as pioneering the direct lending business model, continuously pushing for new technologies that will transform the lending industry, and a proud supporter of war injured veterans and other American heroes. But, most of all, he is known for his hands-on leadership approach, which is prominently on display this week as he leads eight CEO Connects in three days.
CEO Connects, for those outside the loanDepot family, are highly coveted meetings during which Anthony shares his vision for the industry, and, more important, for the company, with small groups ranging between 10 and 50 associates. He also uses these events to receive valuable feedback from the management teams, loan officers and associates who are the heart of loanDepot. Each "Connect" is unique in message and tone, and, at the end of each, all in attendance leave with a deeper appreciation of the intellect, the vision and the passion of the man who leads the charge for the company each and every day.
This week, Anthony's CEO Connects bring a message of change, of determination and of teamwork.
"It's really the most fun in the hardest times," explained Anthony, "Because it forces you to focus."
And Anthony is focused. Both on winning for his company and for redefining the loanDepot lending experience to map to what today's customers demand.
"The days of customers going out with shopping lists and visiting multiple stores is long gone. Digital disruption has changed all of that," says Anthony. "The homebuying and mortgage experience is going to be next. In two to five years, maybe even three, customers will want to manage the entire home buying and home selling process with one brand."
And, says Hsieh, loanDepot is poised to achieve that experience by making the significant intellectual and technological investments necessary to create a platform that goes far beyond creating a digital mortgage.
"We have to make the company much more complex so that we can make it simpler for the customer," says Hsieh. "That's the only way this evolution will be possible."
A dedicated and tireless leader, Anthony will continue the week with five more CEO Connects, ending the week at the mello Innovation Lab, where his hand-picked team of engineers and programmers are working on the complexities that will—in the very near future—simplify the lending and home buying experience for customers. It's a moment that Anthony and everyone at loanDepot is looking forward to with great anticipation.
"We are in the midst of a massive digital change—and what we're building is the foundation that, years from now, others will wish they had. We'll just be light years ahead of them. It's exciting times."