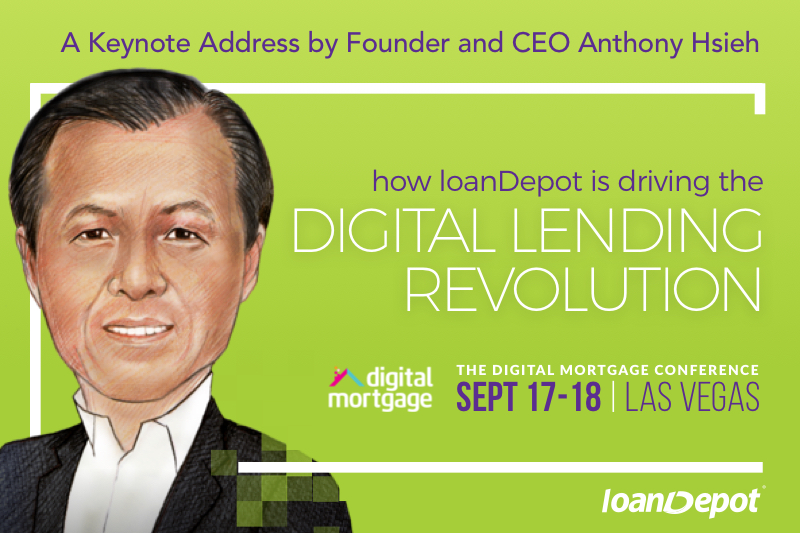 Attendees of this year's Digital Mortgage Conference are in for a memorable experience as loanDepot CEO and Founder Anthony Hsieh kicks off the event with a keynote focused on a topic for which he is deeply passionate: digital disruption and, more important, how consumers' "financing first" mindset, when paired with intuitive technology, is forever redefining both the mortgage and real estate industries.
Hsieh, renowned in the lending industry for his ability to create immensely successful companies, is considered not only to be a consumer lending expert and tech visionary, but is often referred to as the architect of modern lending.
His keynote comes at a momentous time for Hsieh and the company he founded just eight years ago. In March, the company opened its state-of-the-art mello Innovation Lab, where a hand-picked team of programmers, coders and technology experts are bringing Hsieh's technological vision for the future to life.
"There's a massive amount of customers who want a digital experience with a trusted brand and we're committed to delivering exactly that," says Hsieh. "We've invested more than $80 million in the creation of mello, our proprietary digital lending platform that enables customers to interact with us on their terms, when, where and how they want."
Recent research confirms Hsieh's vision—that consumer behavior has shifted dramatically, with prospective home buyers and those seeking home renovations approaching their transactions by seeking financing first, thus placing the lender in a key position of opportunity to bring real estate agents, contractors and service providers to the consumer—placing lenders who have the technology and the networks at the top of the funnel in the purchase experience.
Says Dominick Marchetti, loanDepot's Chief Technology Officer, "With the digital tools and data that we have harnessed, we have created a transformational experience for our customers, much in the same way that Amazon and Uber have in their respective industries."
Digital Mortgage Conference attendees also will hear from Marchetti, who will participate in Tuesday's panel: Lender Perspective: Getting Real World Implementation Right. He will be joined by Byce Elliot, SVP, Suntrust, and Martin Logan, CIO of Guaranteed Rate.
Interested in attending? It's not too late. Get your tickets before registration closes on September 16th.