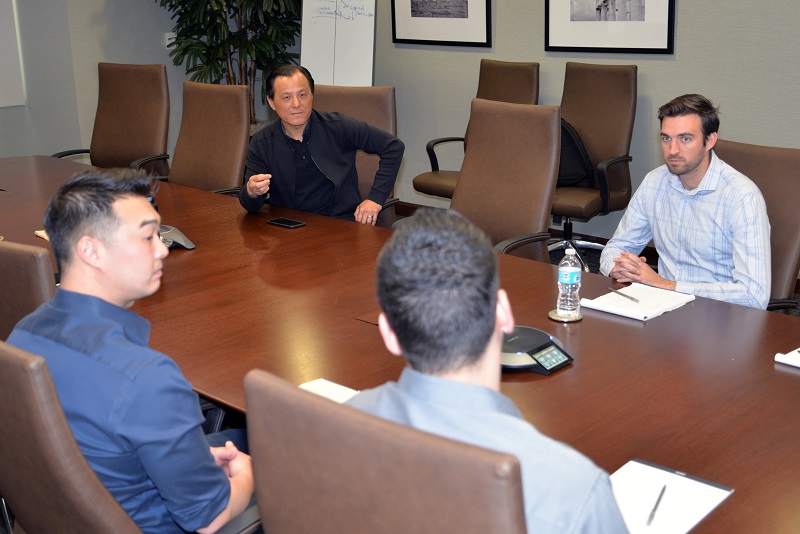 How do you make the best even better? If you're our Chairman and CEO, Anthony Hsieh, you invite them to an interactive coaching session on how to be a better leader.
Hsieh shared his wisdom and insight for creating collaborative teams with ten of our newly promoted production managers. As licensed loan officers, these managers know what it takes to deliver impeccable customer service to borrowers nationwide. Now, as they are honing new skills to lead their own teams to success, they were delighted to receive advice from an industry legend and the company's leader.
"Leadership is a thinker's game," says John Alvarez, a production manager at our Arizona campus. "That's the comment Anthony made that really stood out to me." Immediately following the meeting, Alvarez, a four-year veteran with the company, had already initiated plans to implement some of the guidance provided in the work session.
"It's amazingly cool how Anthony can relate to us and our roles and provide great guidance and advice," says Saul Farber, a production manager at our Foothill Ranch campus. Saul, who has worked with Anthony for many years adds: "His guidance today around elevating the beliefs of those around you and helping empower them to be successful was extremely powerful."
"Anthony thinks in a way that nobody else does," adds Jon Allcorn, a production manager at our Plano, Texas campus. "I think that's what separates him from everyone else in the industry."
Hsieh also provided guidance on how to be both a good manager and build a successful career.
"Anthony is brilliant," says Greg Franks, a production manager from our Plano, Texas, campus. "One thing that really resonated with me was his definition of a successful manager. A successful manager is respected by three groups: his subordinates, his fellow managers and his supervisors. That's a simple concept but such valuable insight."
Hsieh's insights also touched upon one of his favorite topics: technology, and how the company is investing in its future.
"It's awesome when the CEO of a major company takes the time out of his busy schedule to impart his wisdom and share his vision for the future of loanDepot," adds Jonathan Lee, a production manager at our Foothill Ranch campus. "I was excited when Anthony touched base on the revolutionary technology initiatives that we will be activating. One thing I've noticed compared to other mortgage companies I've worked for is that here at loanDepot there is no shortage of people we can help. Given all of the products we have, we can provide a solution for almost any scenario."
Adds Lee, "2016 has started off to a great year and it's only going to get better."
Interested in joining a company that is changing the modern lending landscape? Check out our current career openings.