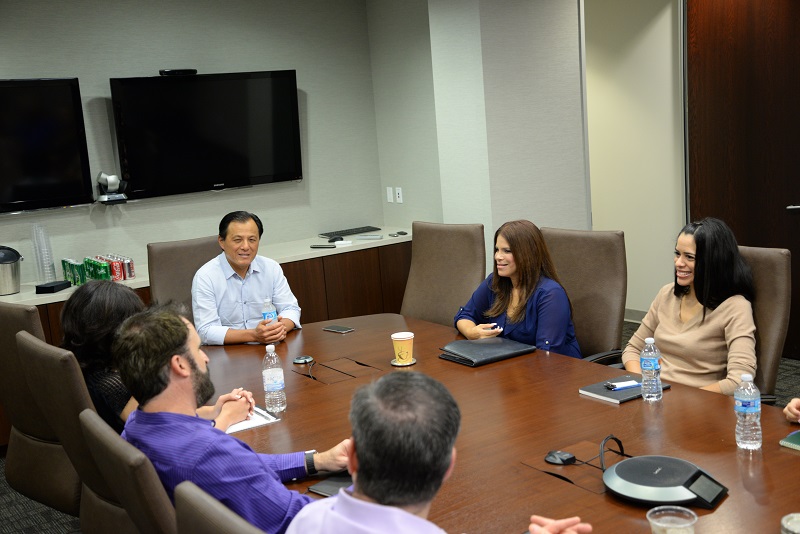 You never know when you might find yourself sitting across the table from the CEO, talking about excellence in the workplace, but for #TeamloanDepot, it's not an unusual occurrence.
During a recent CEO Connect with Chairman and CEO Anthony Hsieh, the company's processing site leaders were honored with an opportunity to hear about the future of the nation's second largest nonbank lender – straight from the founder himself.
"Just hearing him speak gets me fired up," says Processing Director Annette Frese. "You get this tremendous boost of energy when you hear Anthony speak. He always speaks about the present and the future of the mortgage industry and he's always right on."
Attended by fellow processing colleagues Ronni Anchondo, Ben Decker, Brian Lee, Mavi Lenon, Sabrina Lopez, Lisa Merino, Caroline Mucino and Chad Smith, Hsieh discussed technology, big data and other factors that are having a major impact on the mortgage industry.
Frese was especially impressed with Hsieh's commitment to #TeamloanDepot: "Anthony said 'It's about rolling up your sleeves and really caring about your work. It's about having connectivity and working with your people,'" recalls Annette. "As he said, 'We're on an elevator and we're on our way to the top, but as we stop at every single floor, we need to make sure we ask people who are as passionate and driven as we are to hop in with us. That's what's going to get us to the top.'"
Are you interested in jumping on the elevator with us? Then we want to hear from you. Email us today at careers@loandepot.com.