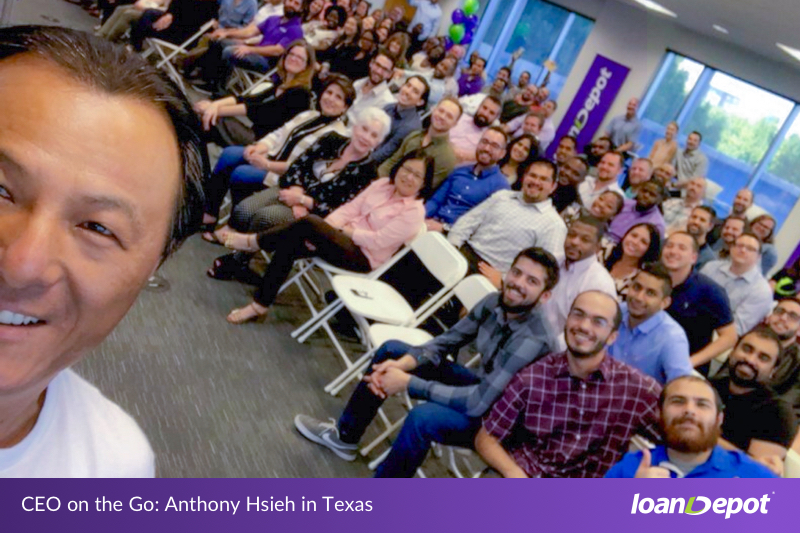 Our Plano office was in for a treat last week as our CEO on-the-go Anthony Hsieh rolled into town to share his views directly with the team gathered. Team members both recent and established alike gathered to hear an information-packed update from our leader, who wowed those gathered for different reasons.
"I've never worked with a leader like Anthony who actually came in and talked to employees on a basis like this," shared Trestan Simmons, new to the team. "Asking questions of him in this setting is a great opportunity. I find it very unique that a CEO would come out and let us talk with him and tell us directly from his view where we're headed.
"It's inspiring to work for a person who has so much fire in the belly, which gave me energy to get back to work and do what I love to do: help our customers," Trestan continued. Anthony's passion for driving consumer-facing innovation was clear to all those in attendance.
Natalie Templeton, a senior member of our processing team, had previously heard Anthony speak. "Anthony's always inspiring to listen to because his vision is so interesting. Anthony thinks 5, 7, 10 years out. Having access to someone with that type of vision is so cool and unique. You don't see that very often, so the time that he spends to engage with us is so valuable."
Dennis Wynant, one of our team leaders in Texas shared this about the recent visit from Anthony: "It's so impactful for our team to hear him speak in person. Having them really hear and understand his vision helps it to resonate. When Anthony talks, they hear how it's going to impact them. Anthony really knows how to paint the picture."
Is access to a visionary leader critical to your career plans? Explore options with us available at careers.loandepot.com.