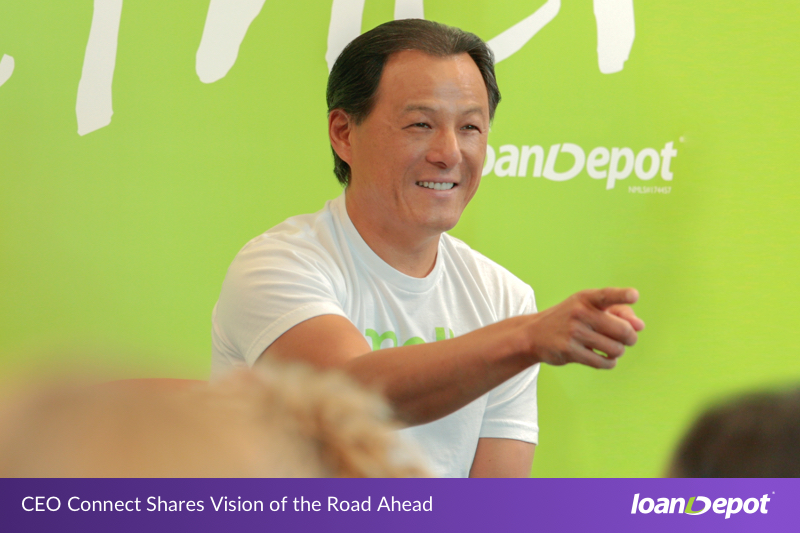 Big ideas were on tap earlier today in the latest CEO Connect events held by our CEO and Chairman Anthony Hsieh. More than 120 members of Team loanDepot from greater San Diego were present to meet with Anthony in up close and personal small-group sessions. Meeting personally with employees to answer their questions and share more details around his vision for the future of the industry is a hallmark of Anthony's accessible and connected leadership.

"Hearing from Anthony directly – there's nothing else like it," said Terry Valdez, senior loan consultant. "He helps us see so clearly how we fit into these visionary macro goals, but also reminds us that our most important job – taking care of our customers – is something we each take part in. His energy is truly incredible."

"We have to listen to our customers and provide them with an experience that delights them, especially in the digital age where people want to swipe or click to get the products and services they need," Anthony shared. "And we'll be there for them, continuing to go above and beyond, and earning their trust with each touchpoint because that's our goalpost: delighting every customer we work with."

"When we stay focused on delighting the customer, we win. Home buying is such a huge investment for people – for many, the biggest they'll make in their lives," he continued. "That's something we all need to stay focused on… exceeding the needs of our customers and opening up a new world of possibilities for them."


"Meeting with Anthony in person is so inspiring," said Gia Walker of our processing team. "We're all part of something really amazing. The potential that he sees and has aligned us for is a great opportunity. I'm proud to be part of this journey."

When asked why Anthony does this, he replied, "I am excited every day to create a new vision for our industry; one that puts the customer first with great tech, a great brand, and great products."

Is being a part of a customer-obsessed organization important to you? Explore the opportunities available with us at careers.loandepot.com to see how you can help us power the future of lending.