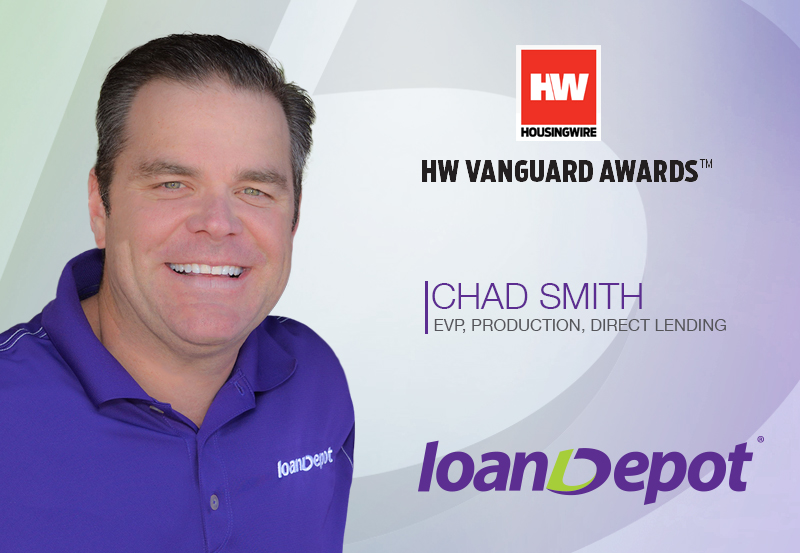 Once again #TeamloanDepot has been honored by HousingWire in their annual Vanguard Awards list which recognizes leaders within the housing and mortgage finance industry who utilize cutting-edge technology, put customers first and embrace challenges.
This year it was our very own Executive Vice President, Direct Lending Production Chad Smith who was featured among the 40 honorees.
A tireless and enthusiastic leader, Chad spends his days actively engaged with his team and colleagues. His mission is to continuously set new goals—and exceed them. And, thanks to his leadership, he and his team regularly have exceeded funding goals at our California, Arizona, Texas and Tennessee campuses in 2016.
"Similar to our Founder and Chairman Anthony Hsieh, Chad is one of those people that you just never want to let down," says Alex Madonna, senior vice president, sales. "Chad really leads by example, from coming in the next morning after major surgery to how he takes pride in knowing every employee's name, to how he inspires the entire team through good and challenging times."
Adds Bryan Owen, senior vice president, production: "Chad is a leader in every sense of the word. His confidence, passion, integrity and drive are felt throughout the organization. Chad inspires others and knows how to bring out the best in us."
Since joining the company in 2014, Chad and his team have accomplished an impressive array of accolades, most recently helping the company achieve record-breaking funding levels of over $3+ billion in the past six months. His partnership with other business partners within the company has helped reduce costs by 35% while also streamlining company procedures. And, being growth focused, he has worked with executive leadership to help sustain growth of the sales and processing teams 35% year over year.
"Chad has taught me so much about executive leadership since he joined loanDepot," adds Madonna. "He is my mentor and I'm very grateful for all he's done for me and loanDepot."
As the company heads into 2017, Chad will be focusing his efforts on helping to support the company's continued expansion and profitability objectives while also keeping a keen eye on increasing performance levels by the company's direct lending teams.
Read more about the 2016 Vanguard Award winners here.
Interested in working with industry leaders who will inspire you to bring your A-game daily? Email us with your resume and area of interest to hello@loandepot.com.