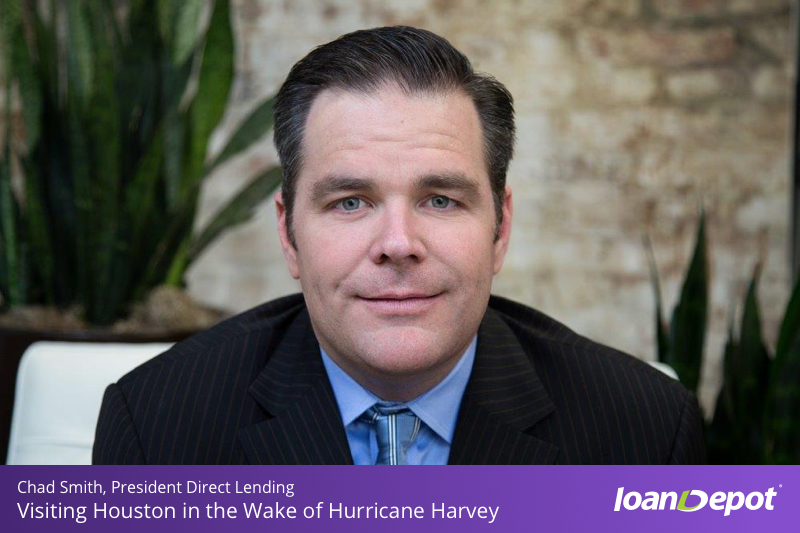 As an executive at loanDepot, it is always refreshing to visit our team members at our locations nationwide. Direct Lending, for example, now has six locations representing well over 1,500 team members serving borrowers across the country.
However, when our CEO Anthony Hsieh plans to visit our locations, it's always mixed emotions for me. Of course, I'm always excited for our team members to hear Anthony's strategy and vision directly from the source. As much, and as often, as I articulate the message, it will never be as impactful as what Anthony delivers. But, on the other side of the coin, I don't like surprises, and, in advance of the visits, I always question every detail to make sure nothing is missed. Did I set my team up for success in this meeting? Did I miss any critical item? Is there anything more that needs to be done?
We are a very accountable team, so I'm always confident that these meetings and trips will go well, but I always try to prepare for, and mitigate, the unexpected.
Which leads me to our most recent trip last week to visit our Texas offices. Everything about this trip was different. Not only were we visiting our offices in Plano, but we were making a special trip to check in with our team members in Houston – and I don't think any of us on the trip knew fully what to expect. How can you ever feel prepared to see the aftermath of something as devastating as a Category 3 hurricane? I had been concerned about our team members and their community for days.
The trip began with an intimate CEO Connect dinner. CEO Connects are very special to our team members and to Anthony. Here, in a small group setting, Anthony shares his thoughts and talks about his vision for our company and for the industry. Although he is a very accessible CEO, these smaller settings enable our team to get into a more thoughtful dialogue with Anthony. As always, everyone walked away with a deeper appreciation of how Anthony is architecting the changes that will transform our industry.
Next up was a larger Town Hall the following morning. Anthony regularly holds Town Halls, which are, essentially, Anthony's version of a TED Talk—and they are highly coveted by our teams. Our trip was off to an amazing start, and even me—who has much more regular exposure to Anthony—came away with so much more insight as it relates to Anthony's vision and strategic positioning for our company. The three-month, three-year and seven-year vision he shared were so invigorating—we are thinking and executing at another level, specifically when it comes to consumer adoption and technology. We are on course to create something really special. While many people might think we've achieved status, our mentality is that we are only getting started.
mello™, our best-in-class technology is just the beginning. We are only in the first inning, but all nine innings are visualized – which is mind-blowing. And, our team of Texas rock stars definitely knew they were hearing something special. Their intellectual curiosity and intense interest in Anthony's comments definitely demonstrates that we have incredible people serving our borrowers, and that makes me extremely proud. As Anthony fielded questions about technology, new products and our expanding ability to touch more homeowners, I could see the heads of our team spinning with awe and excitement.
Simply put, it was a great 14 hours.
But, after that 14 hours, it was time to begin the crux of our trip: visiting our 48 team members in Houston who are experiencing something that no one on our executive team ever has, the effects of a devastating hurricane and its aftermath. Again, my mind rapidly shifted into preparing for the unexpected. We were all thinking "Are we doing enough?" "Are we overwhelming the team?" and, most importantly, "What more can we do?"
Until we arrived, there really was no perfect answer. As we flew into Houston and saw the homes under water, we quickly gained a better understanding of the magnitude of the situation. Once we landed, we loaded up the trucks with supplies and began our trek from the airport to our office in Katy, Texas.
Our Houston associates were waiting for us in Katy, and it was the first time they had all been together since the hurricane. Listening to them share their stories was humbling, to say the least. I had expected this visit to be filled with stories of emotion and loss, but I also knew that Team loanDepot would rise to the occasion, taking care of one another and the community. Being with this group was very inspiring -- they were less concerned with their personal challenges and more concerned about helping others.
I expected that Team loanDepot would embrace each other, but what I could not have expected was the intensity of this passion, caring and heart. The level of commitment toward taking care of others that the people of Houston, our 48 associates, and the nationwide Team loanDepot family are demonstrating through a truly horrific situation, is something to behold. As much as I dislike surprises, this outpouring shattered my expectations in all the best ways, and I was honored just to be a small part of it.
Since the hurricane hit, loanDepot team members have been rallying together, sending in donations to the American Red Cross and to local diaper banks—and offering to do everything they can to help Houston in their time of need. At the end of our visit, it was clear that our Houston associates walked away knowing that everyone at loanDepot cares, and that we're with them every step of the way.
We didn't arrive in Houston with a big camera crew to document our trip. Anthony didn't want that. He just wanted to be there, talking with the team and hearing their stories. In the coming weeks and months, we will return to help them—and the broader Houston area—rebuild. But most of all, we will make sure that they know—as we also will now do with our Florida associates—that through the good times and bad, Team loanDepot stands as one.