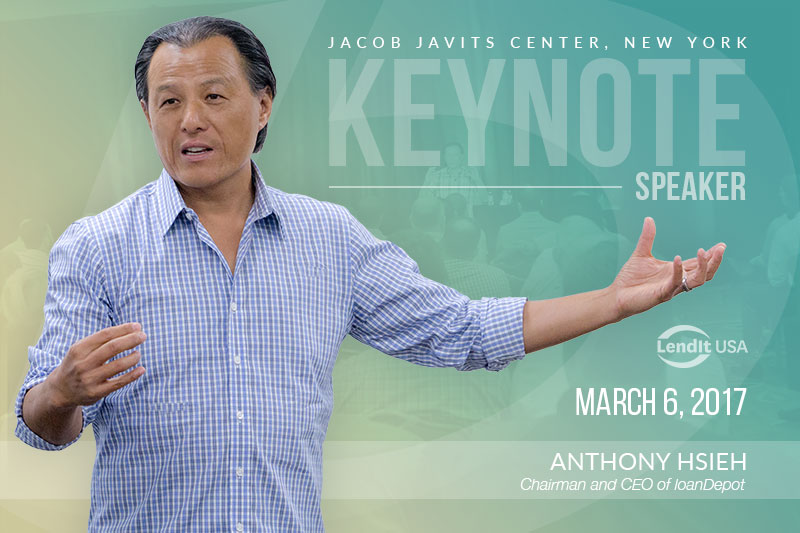 Acclaimed speaker and lending industry icon Anthony Hsieh will address over 5,000 attendees from 40 countries this March at LendIt USA, the largest gathering of lending and fintech experts. His objective? To provide perspective on how the lending landscape will take shape in light of shifting interest rates, the new administration, and changes in online lending.
Hsieh's clarity of vision enabled him build loanDepot into the fifth largest US retail mortgage lender in less than seven years. Under his leadership, the company has experienced 400 percent annual market share growth since 2012 and achieved 70 percent average annual year-over-year growth since inception.
"The loanDepot platform is purpose-built to deliver a high-tech digital and high-touch human experience through our website and our national network of 1,700 licensed lending officers," said Hsieh. "By engineering our own technology, digitizing the mortgage experience and further expanding our retail network, we're reimagining how borrowers can access credit on their terms."
Held at New York City's Jacob Javits Center on March 6 and 7th, LendIt USA focuses on market opportunities, partnerships and vertical innovations. It is an once-in-a-lifetime opportunity to network with category innovators, fintech entrepreneurs and lending enthusiasts. Interested in attending? Registration is currently open.
Can't make it to Lendit USA but want to follow the action? Follow us on LinkedIn, Facebook and Twitter for all of the important details.
Get Anthony Hsieh's perspectives by following him on LinkedIn.