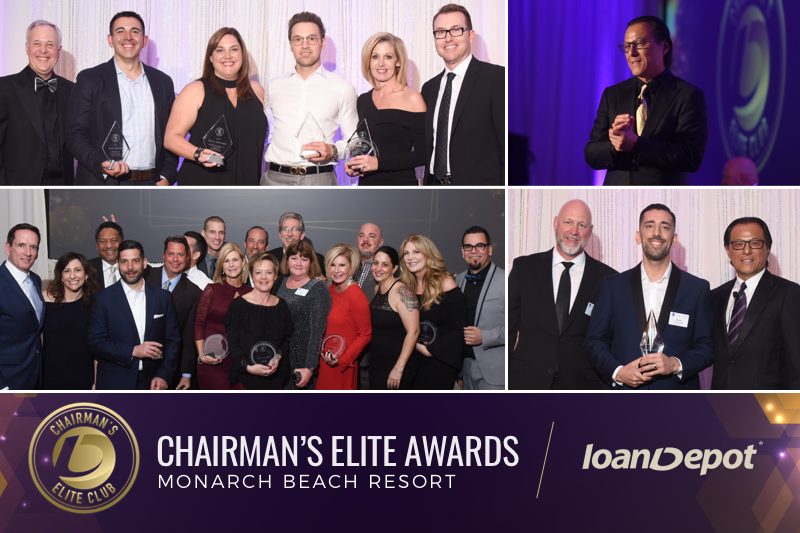 What does attaining the pinnacle of success in your industry look like? For our Chairman's Elite winners, it looks like a memory-filled weekend filled with laughter and smiles, hugs and handshakes, and, most important, speeches and conversations that centered around one thing: Working together to make our customers' experiences exceptional.
"To reach this level of success you need a wide range of talent, and you need a lot of different skills," said Jeff Walsh, chief operating officer, during the awards festivities. "But there's one common theme that I recognize amongst this group, and that is your tremendous competitive drive, and that's the thing that motivates me and my team to continue to make loanDepot an even greater company."
The loan officers, branch managers and senior leadership who arrived at the Monarch Beach Resort this past weekend represent the best of the best at loanDepot. They are the movers and shakers who, every day, make it their goal to ensure that their customers receive expert support. During the celebratory weekend, the Elite were honored with accolades and gifts, pampered with spa treatments and tours, and toasted by executive leadership. But when they left, they departed with the most valuable gift of all—the wealth of insight into the company's vision for 2019, provided first-hand during an exclusive executive leadership panel.
Joining our CEO and Founder Anthony Hsieh on stage were: Jeff Walsh, chief operating officer; Dan Hanson, chief retail production officer; John Bianchi, EVP, national production manager, distributed retail; Tammy Richards, EVP, enterprise chief operating officer; Dominick Marchetti, chief technology officer; Tomo Yebisu, EVP, production; and Alex Madonna, EVP, direct sales. Together, the group represents the brightest minds and greatest innovators in the mortgage industry.
"Our company is looking five years ahead and putting its money where its mouth is," said Bianchi as he launched the panel discussion. "We don't want to be big, we want to be different. We want to leave a legacy."
Added Richards, who has been instrumental in the launch of the industry's first-of-its-kind fully digital loan, mello smartloan™, "We're putting the control back into consumers' and originators' hands. Other companies think that they have a digital mortgage because they can digitally document assets, employment and income. But we've added credit, appraisal, title, flood, hazard and e-close to create a fully automated process. That's what sets us apart."
loanDepot's innovative streak stretches well beyond its technological prowess. The company also is dedicated to supporting its loan consultants' efforts to expand their networks in today's social-focused environment. The company's ground-breaking Modern Lending Playbook, a marketing training program dedicated to enhancing loan officers' personal brands, is unique to an industry that has, historically, dedicated its energies to traditional marketing support materials.
"Our Modern Lending Playbook helps you learn new ways to convert," said Hanson. "The consumer is taking charge now, and today's loan officers need to know how to pivot their messaging and their sales dialogue to be successful."
Twice a month, loan consultants can join a training livestream that takes them through one of ten chapters filled with tips and tricks from seasoned originators, together with social media and networking recommendations provided from industry experts.
As the panel ended, Richards reminded loan consultants to do the one thing: "Whatever you do, push the button," she laughed, referencing loanDepot's ability to run DU and LP simultaneously through its mello program. The result, she added, enables them to instantly determine the best solution for their customers, often with time- and money-saving results.
If you are a loan officer interested in expanding your career and attaining new levels of success, drop us an email at hello@loandepot.com to learn more about all of our exciting opportunities nationwide. New to the industry, but intrigued at the opportunity? Reach out, we have exceptional training programs that can set you on your path to success.