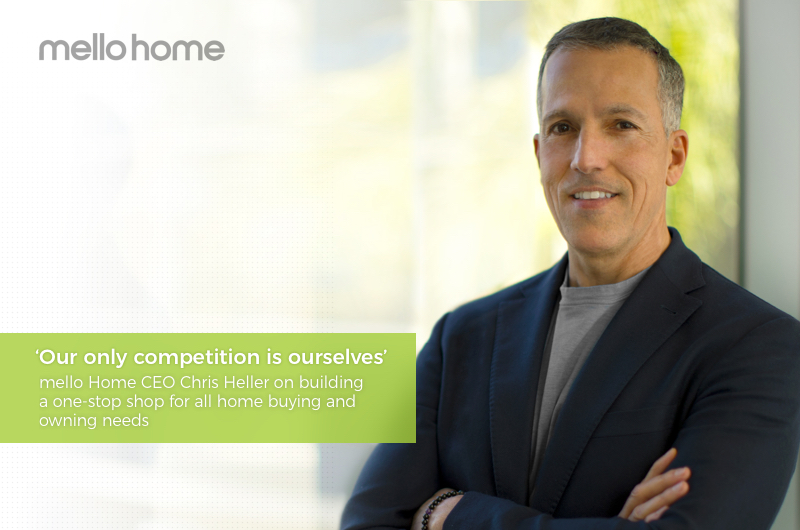 Whether you've bought several homes or are buying for the first time, you know how many service providers are involved and it can be overwhelming. What if it was all a one-stop shop you could manage from your phone and seamlessly get smart advice from local lending, real estate, and home improvement pros along the way?
And if you're a real estate agent or home improvement pro, what if you could connect with home buyers and owners who are already pre-approved and ready to transact?
That's what we're building for customers and for real estate and home improvement pros.
loanDepot makes the loans, and
mello Home
matches real estate agents and other home services pros with you whenever you need them. loanDepot and mello Home are sister companies that partner to give you a one-stop shop for buying, financing, and improving your home.
A key team member driving this vision for you is
mello Home CEO Chris Heller
, who took the role in February after serving as CEO Keller Williams, the nation's largest real estate brokerage.
What makes mello Home unique in the marketplace:
•
Our approach is to look at it from the perspective of the consumer. What the consumer wants — you, I and everyone else out there — we want ease, we want speed, we want certainty, we want transparency. If we're trying to accomplish something, we don't want to deal with seven different sources of vendors or information. We want a single source for that. The thing we think about is, how can we provide that and what are we doing to provide that? It's keeping an eye on who else is able to or is trying to provide the same thing and what are we doing that's going to be different, better, faster, a better experience for that consumer.
•
Our truly only competition is ourselves and our ability to execute and provide a great experience for our customers. Anything that other companies do really doesn't impact that. What impacts that is our ability to implement, execute and provide a great experience for people that are already in contact with us.
•
There may be others doing similar pieces of what we are doing with mello Home but we have some key areas of differentiation. For example, we go directly to real estate agents, not through brokerages, to acquire and to create referral partners. Another thing we do that's different is we have a concierge team that is an additional point of contact for the consumer. That concierge is communicating throughout the transaction with the consumer, agent and loan officer to ensure we're providing an exceptional experience on the lending and buying side.
On the launch of mello Home and where we are with real estate agent matching:
•
The mello Home platform on-boarded 600 agents in its first week. We are excited by the level of interest and the steady stream of those applying by visiting our
mello Home website
or by contacting our mello Home concierge team directly at inquiries@mellohome.com.
•
We see a trend of many teams and high-caliber agents expressing interest in our referral network. The top agents and teams are definitely dominating the inquiries.
•
Agents who join the platform as a way of connecting with pre-qualified home seekers must have three years of full-time experience as real estate agents, and have closed 50 transactions in the last year (that requirement can be adjusted in lower-volume markets).
•
We didn't want to open the floodgates too quickly and not be able to handle the inquiries. We've learned a lot and made several changes to smooth out the overall onboarding and application process.
On next steps for mello Home matching to home improvement pros:
•
There's lot of research going on right now and conversations with potential partners and vendors to be able to offer more home services to our consumers. There's several parallel paths going on right now, all in early stages, all in discussion and research mode. Just like mello Home's come about very quickly and we're moving very fast, you'll see the same thing happen with some of these others.
On mello Home leveraging loanDepot's mello technology platform:
•
loanDepot's proprietary mello technology platform is a huge advantage for mello Home. With the addition of the mello Innovation Lab where our 450+ technologists focus on building our leading-edge platform and services is really not typical in the real estate space. It's very typical of technology companies and startup companies. I would say if you were to travel to most real estate companies and headquarters of real estate companies, they don't look anything like our mello Innovation Lab.
•
Everything that we think about and most of the things we're doing are outside the normal box of how real estate is being done. When you have an environment that helps you continue to do that because it's not traditional, it makes it very synergistic to have your physical environment and your intellectual environment have that consistency.
Are you looking for a new home and want to be pre-qualified so you can quickly select the home of your dreams? Visit us to
find an expert near you
.