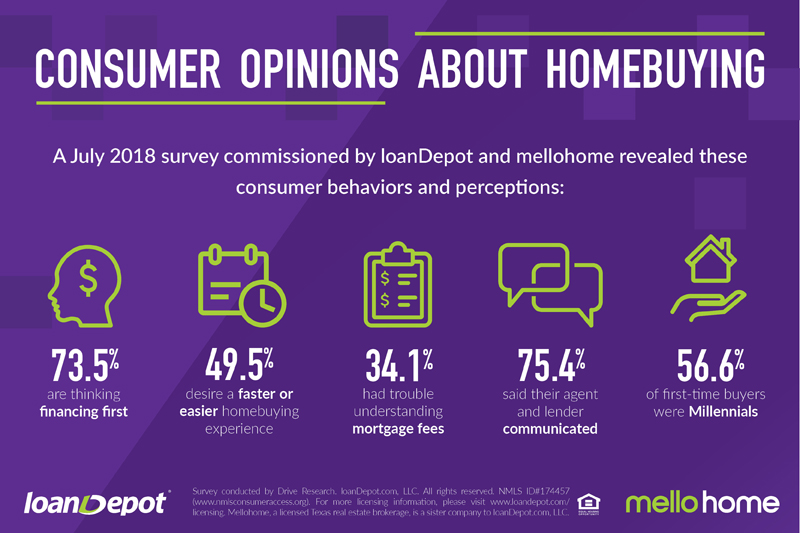 A survey commissioned by loanDepot, in connection with its real estate services provider, mellohome, indicates that recent homebuyers are taking a new approach when it comes to purchasing a home. The survey, conducted by Drive Research in July 2018, and based upon a random national sampling of nearly 1000 home purchase customers, shows that these customers often seek financing first in their homebuying journey and want greater speed, simplicity, and communication from their providers.
The Rise of Financing First
Of the homebuyers surveyed, 73.5% said they sought out home financing options before they began looking for a home. Among first-time homebuyers, that number rose to 85.1%.
"This is definitely a shift from 10 years ago," said Chris Heller, CEO of mellohome. "It emphasizes how customers are changing their approach to homebuying. In the past, they relied on a real estate agent to drive the entire process. Now the customer is taking charge and doing a lot of the groundwork before they even get an agent involved.
"Homebuyers have learned that getting their financing in order upfront helps prepare them to shop for a home with confidence and puts them in a more advantageous, competitive position, especially in tight markets. With the lack of inventory we've seen in recent years, it's especially important to be armed with a preapproval when that perfect home appears."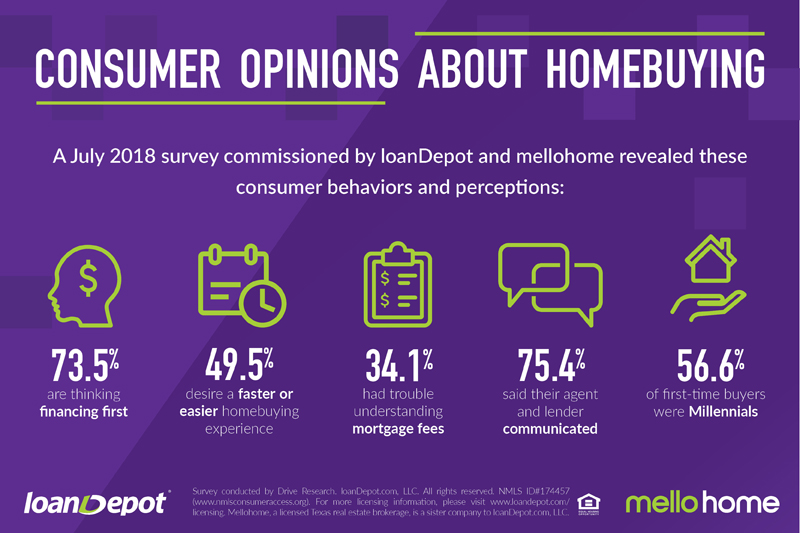 The Stress of Buying a Home
Heller's advice about inventory speaks to the anxiety expressed by many homebuyers. Of those surveyed, 66.9% reported that finding the right home was not easy. Coordinating paperwork and the overall home loan experience ranked next highest in terms of difficulty with survey respondents rating them as not easy 64.1% and 59.4% of the time, respectively.
"Consumers are right," said Anthony Hsieh, CEO and Founder of loanDepot. "The mortgage process should be easier, and creating that kind of experience is one of our primary objectives each day. Delivering technology, processes and tools to foster ease, simplicity and customer delight are at the core of our strategy, and, because of this, we have become the consumer brand of choice, using our technology to create a transformation. This commitment is why we have invested over $80 million in the creation of mello, our proprietary digital lending platform that allows customers to interact with us on their terms, when, where and how they want. mello proves that stress doesn't have to be a part of the mortgage equation."
"Anthony challenges each of our 6000+ employees – especially those at our mello Innovation Lab -- to be change agents on behalf of our customers each day," said CTO Dominick Marchetti. "With the digital tools and data that we have harnessed, we have created a transformational experience for our customers, in much the same way Amazon and Uber have in their respective industries."
Echoing Hsieh and Marchetti's comments, loanDepot COO Tammy Richards confirms that loanDepot's data-driven digital mortgage experience is a key to meeting today's homebuyer expectations. "With the power of the data that loanDepot has readily available to us upfront, closing a loan can be easy and fast, and ultimately, an experience that feels much more relaxing for the customer," she said. "Our data-first approach completely changes the mortgage mindset. With the tools and technology we have available, we can, in many cases, reduce, or even eliminate, a significant amount of the heavy lifting that homebuyers expect to go along with their mortgage experience, and give them confidence and peace of mind right from the start."
The Change Homebuyers Want
Survey results show that Hsieh, Marchetti and Richards have their finger on the pulse of what customers desire. When asked what words best describe the homebuying process, the top selections were "time consuming" (25.4%) and "challenging" (24.1%).
Concerns about speed were also noted when surveyed homebuyers were asked specifically about the most stressful aspects of getting a home loan. A quarter of them cited the length of time it took to secure a mortgage as the top stressor. However, timeframes were not the only consumer irritant. Understanding fees (34.1%) and finding the right loan (30.9%) were among the top pain points. This suggests that customers are eager to work with lenders who can better communicate loan options and details.
Concerns about communication were elicited in other areas as well. When asked whether their real estate agent and loan consultant communicated with each other, 24.6% of respondents said no (31.8% of non-first-time homebuyers vs. 17.7% of first-time homebuyers).
"On 100% of transactions, agents and lenders are talking with one another," said Heller. "The fact that customers aren't aware of that tells us that more transparency and thorough communication by the real estate professional is warranted. We all need to do a better job. This is one of the reasons why the mellohome model of homebuying is so essential. We give buyers a Concierge Specialist whose job it is, not only to match customers with a top real estate agent in their local area and loanDepot lending officer, but also to ensure all parties are connected throughout the process. The Concierge acts as the buyer's advocate, making sure everyone is communicating and everything is running smoothly."
The Way of the Future
Of the first-time homebuyers surveyed, 56.6% of them were born in 1981 or later. Millennials are interested in homeownership, and they are getting into the housing market with greater frequency.
These buyers came of age with an awareness of the financial crisis a decade ago, in a world of technological advancement where many activities that caused their parents stress can be handled with the push of a button on a smart phone.
"Today's homebuying industry must stay ahead of where technology is driving customer expectations," said Hsieh. "We can no longer act as if real estate and mortgage are completely different experiences for the customer. Those industries are converging, and loanDepot and mellohome are uniquely positioned to maximize that convergence for the benefit of homebuyers. The future we're achieving together is one that is on the customer's terms, where the stresses of homebuying have been replaced with speed, simplicity and ease."