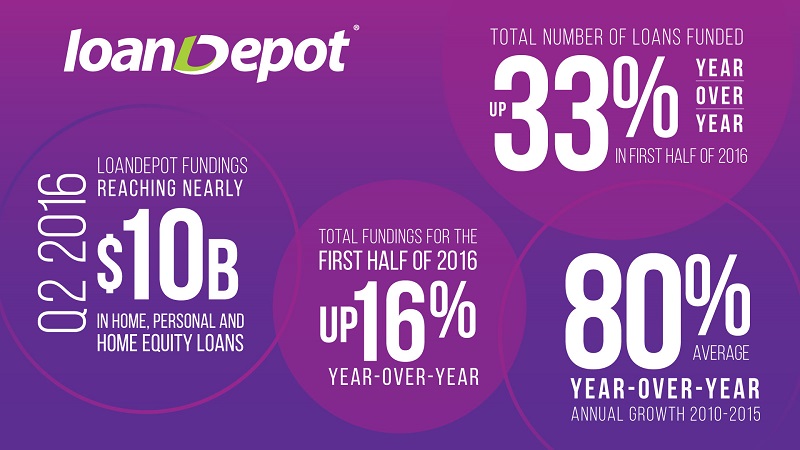 For the first time since 1995, consumers chose nonbank lenders instead of commercial banks for more than 50% of the home purchase loans closed last year, based on recently released Home Mortgage Disclosure Act Data (HMDA). Commercial banks (44%) and credit unions (6%) closed the remaining home purchase loans.
This shift in consumer preference away from banks to nonbanks for purchase mortgages is a sprint, with the share of home loans originated by nonbank lenders increasing sharply in recent years, according to the Federal Reserve.
Overall, the number of home purchase loans rose from 3.2 million in 2014 to 3.7 million in 2015. Last year nonbank lenders increased their share of home purchase loan and refinance loan closings by 3% and 6% respectively.
The HMDA data also found that nonbank lenders stand second to small banks in serving minority borrowers, while commercial banks have retreated from lending to minorities.
loanDepot has achieved 80 percent average annual year-over-year revenue growth since 2010 by enabling responsible borrowers to access the credit they need to fuel their lives and achieve their dreams.
Today, loanDepot is the fifth largest retail mortgage lender in the U.S. for both home purchase and refinance loans, all product types. The company funded nearly $10 billion in home, personal and home equity loans in the second quarter 2016, with fundings up 16% year over year for the first half of 2016.
As America's lender, loanDepot matches borrowers with quality credit products through the dynamic delivery of technology and high-touch customer care. loanDepot remains well positioned to continue taking market share away from commercial banks.