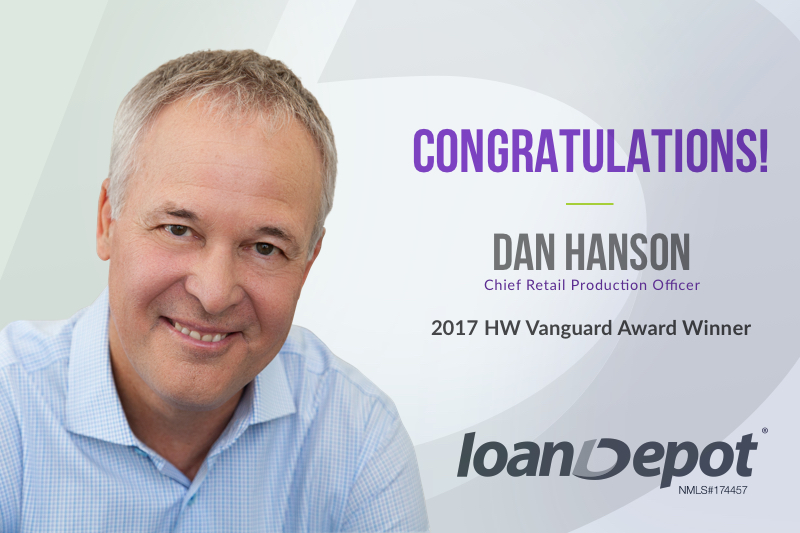 We are pleased to announce that Dan Hanson, our chief retail production officer has been recognized by HousingWire with its prestigious HW Vanguard Award. This is the third consecutive year that loanDepot executive leadership has received this impressive accolade.
An industry trailblazer, Dan is deeply committed to helping his teams achieve the highest levels of success in the industry. A dedicated leader, this year Dan was promoted to chief retail production officer, a role in which he now leads the retail production team powering our pursuit to become America's lender of choice.
"Every leader who gets recognized understands it is because of the accomplishments of the people who work in their organization," said Dan when he learned about the award. "I have been particularly blessed with amazing talent both in the field and leadership from the top of the company to enjoy the success we have had at loanDepot."
Dan is equally dedicated to giving back to the communities in which we live and work. He is an active board member of several national nonprofit organizations, which include: Forum of Christian Business Leaders, HomeAid America, Free Wheelchair Mission, University of Redlands Global Business, and the Board of Trustees of the California Homebuilding Foundation.
The HW Vanguard Award honors industry leaders who are contributing to the growth of the housing economy and its various sectors. All honorees have one common trait—they make an unshakable impact on the industry at large. For a full list of the 2017 HW Vanguard Award winners, click here.
Interested in joining a team that is changing the way America thinks about lending, visit careers.loandepot.com to get started.