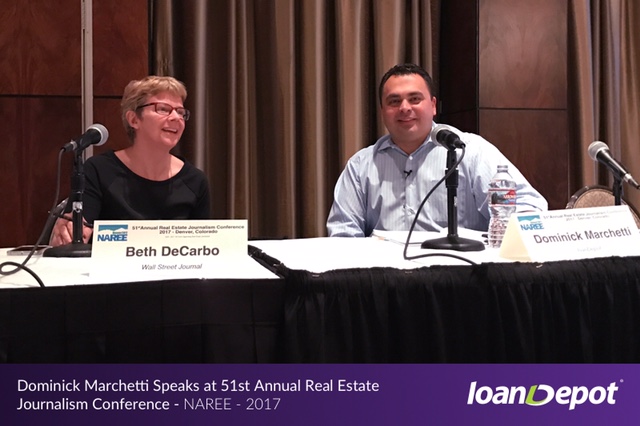 What started as a small group individuals led by our CEO and Chairman Anthony Hsieh has grown into the nation's second largest nonbank lender through our commitment to technology and innovation. Leading our team of talented technologists is our Chief Technology Officer Dominick Marchetti. He is part of our unwavering commitment to bringing a seamless users experience to our borrowers.
Last week, Dominick spoke at the 51st Annual Real Estate Journalism Conference, enjoying an informal fireside chat-style conversation with Wall Street Journal Editor and NAREE Board Member Beth DeCarbo. Dominick intrigued the ballroom filled with the nation's leading real estate journalists with his perspectives on the industry to date, and on how technology is going to be the industry shape-shifter.
"Consumers today expect mobility, transparency and everything needs to happen in real time," he explained. "We've seen paper transition to fax transition to a digital quote-unquote mortgage, which simply means that I go online and enter the same data in a slightly different way. And these were all incremental improvements. What comes next is the real deal: I'd call it disruption."
He added that today the lending industry is at a crossroads – those companies that do not embrace technology doomed to fail. He also noted how fundamental security is to the lending industry. loanDepot's modern, custom tech infrastructure, combined with our advanced proprietary software, ensures a secure experience throughout the life of the loan. But it's more than just providing the ability to complete a loan experience online.
"We've been piloting programs over the last few months that give us insight into predictive consumer behavior," adds Dominick. "This capacity enables us to drive relationships and be even more relational with consumers."
Interested in joining a team that is changing an industry? Explore new paths with us at careers.loandepot.com.