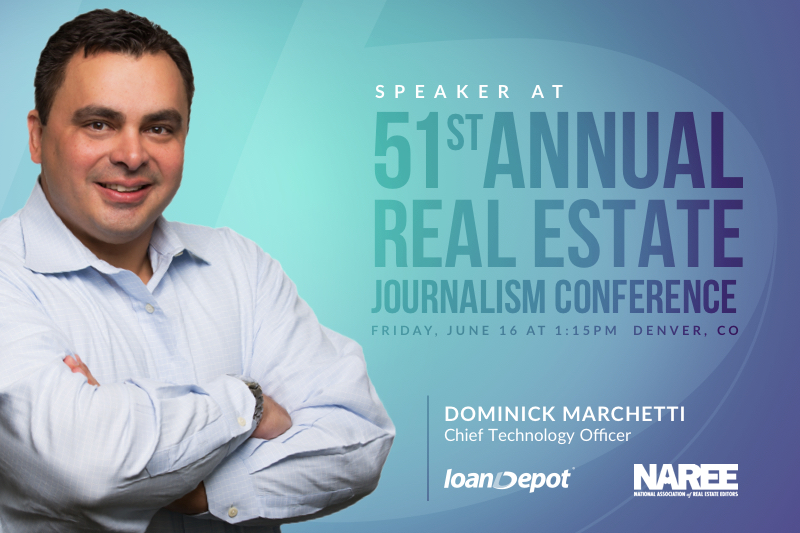 The race to digitize lending is on, with loanDepot at the forefront of today's modern day movement. Positioned to assist our CEO and Chairman Anthony Hsieh bring vision to life through technology is loanDepot's CTO, Dominick Marchetti.
Considered a leading expert in advanced lending technology, Marchetti will speak at the 51st Annual Real Estate Journalism Conference on Friday, June 16 at 1:15pm with NAREE Board Member Beth DeCarbo from the Wall Street Journal. During this fireside-chat style conversation, Marchetti and DeCarbo will examine issues including machine learning and assisted intelligence, cyber security and block chain technology, and how technology is forever changing the landscape of modern lending.
Marchetti recently spoke at the MBA National Technology in Mortgage Banking Conference & Expo 2017 in March, discussing the race for market share between traditional lenders and digital natives. Committed to leading the development of loanDepot's mello™, the fintech ecosystem of the future, Marchetti is often found sharing the latest details on how our priority technology keeps us on the cutting edge of modern lending.
"The best technology is totally transparent," says Marchetti. "It does what it is supposed to do in the background. The technology is very complex to make the user experience very simple. That's why we've hired the very best people who can solve these very big challenges."
Follow us on Twitter, Facebook and LinkedIn to get loanDepot's technology announcements in real time.
Interested in changing the future of modern lending? Email your resume and area of interest to hello@loandepot.com