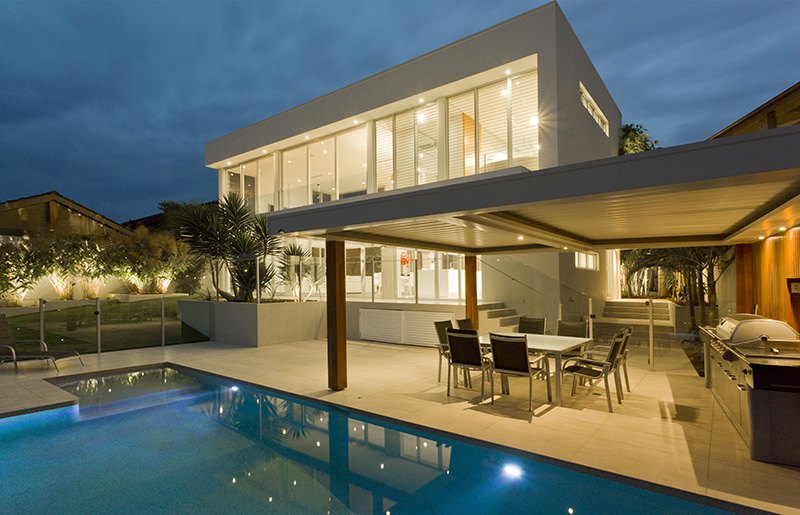 I temporarily moved to Los Angeles not long ago and during that time I toured a lot of brand-new, modern homes. Investors are taking small, older houses in good areas and rebuilding them into ultra-modern dream homes.
The glass walls, slate floors, lighting fixtures and dream kitchens were dazzling, but the lavish backyards were one of the biggest selling points. Below are some the hottest must-haves in outdoor living. Though spotted at very high-end homes, these backyard ideas can be adapted to do plenty with modest space or a moderate budget.
Outdoor rooms are HUGE! Whether it's an elaborate covered patio or an indoor-outdoor room created with disappearing glass doors that link the living room with the outside room, you need a comfortable, preferably sectional, seating area.
A pool and spa is a must, even if your yard is small. If you're not hosting huge swim parties, a smaller pool can still serve your lounging, cooling, lap, and atmosphere needs without taking out your entire yard.
TVs – If you're living half your life outdoors, you need to keep up on what's happening. Enjoy sporting events while BBQing or use it for music and atmosphere (and an additional lighting source) in the evenings.
Kitchens – Just a barbecue doesn't cut it anymore. A grill, rotisserie, refrigerator, counter space, sink and bar top are the trend for cooking and entertaining.
Bathrooms – Many designers were putting in bathrooms at the opposite end of the pool from the house so you don't have to get out of the water and slog across custom floors while still wet. This works as a great changing area for guests as well. Many even have showers.
Fire pits – with the availability of glass crystals a creating clean, beautiful burning area that doesn't need to be restocked, fire features are becoming a requisite for dream backyards these days. You can have them built in or buy a portable one. Many have surrounding seating and even table areas.
Lighting – add drama and the illusion of space or guide your guests in the dark with creative outdoor lighting.
Security – If you can't afford a stone wall, consider fast-growing plants to create privacy. Black bamboo is an ideal screen and unlike other varieties of bamboo, it is easy to control, will stay where you want it and won't take over.
If you are looking to go big and bold in your backyard but don't want to use your savings, a home improvement loan can help. If you're not ready for a major renovation, you can still do a few of these or just get some brightly colored cushions, serving ware and a fire pit from Target and start dreaming about where you can take your aspirations.