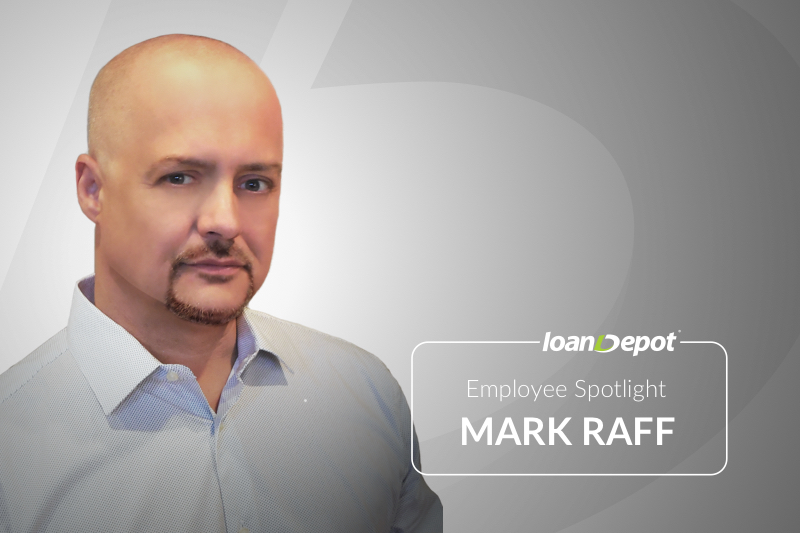 Senior loan officer Mark Raff has a whiteboard in his Schaumburg, Illinois office that says, "Be authentic. Change the lives of others."
These words are more than inspirational slogans to Raff. He believes that working at loanDepot empowers him to really help people make significant and positive changes in their lives.
"I helped a disabled veteran find a two-unit property and qualify for a break in his property taxes. At the end of the transaction, the man was very emotional," recalls Raff. "When someone who has a lot of bravado can break down like that, that's palpable. It was such a life-affirming moment."
Raff joined loanDepot in November 2015 with more than 15 years of experience in real estate lending. The Schaumburg branch newly opened at the time, and he viewed this as an exciting challenge and opportunity. He says, "I wanted to really 'explode the brand' locally and be a goodwill brand ambassador immediately."
Raff is enthusiastic to be in the lending industry today because technology is evolving so quickly. The ability to be in constant contact with customers is so different than "doing loan applications at a kitchen table," he says. "As a company, we are picking up speed to develop our technology and galvanized on a single mission."
He also uses social media to grow his personal brand and to share his opinions about issues affecting the work place: https://www.linkedin.com/in/theraffgroup/.
When Raff is not at work, he is focused on his family. As the father of a son with Down syndrome, he is particularly cognizant of the challenges faced by people with special needs. When his son comes to visit him at the office, or a borrower sees some of the many pictures of his son that are at his desk, it provides an opportunity for co-workers and customers to make a personal connection between business and family life.
That type of authentic connection is important to Raff, who is excited about loanDepot expanding in his market and throughout the country for that matter. He says, "I am blessed to be here and I look forward to helping further grow the loanDepot culture and brand."
Interested in making a difference in people's lives? Email your resume and area of interest to hello@loandepot.com.