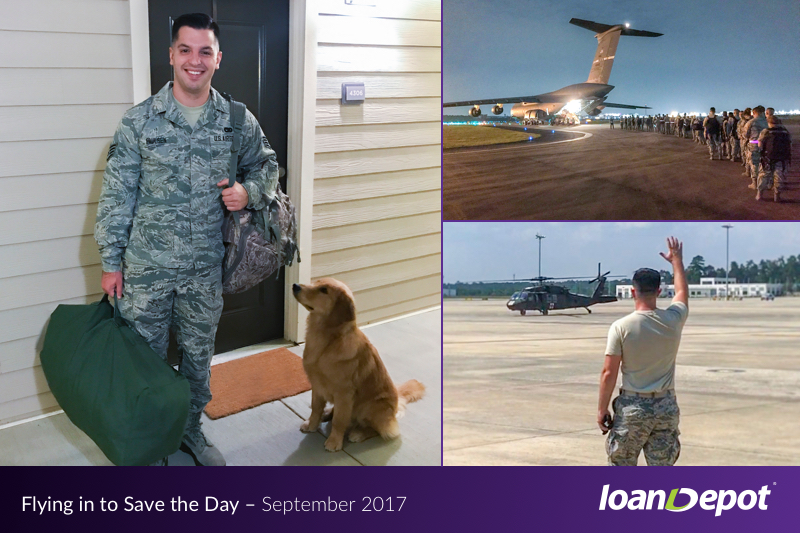 Editors' Note: This post is the first in an ongoing series featuring stories of amazing service and support in our communities and across the nation. Look for more of these service-first stories in the days and weeks to come. --BL
Robert Paulsen, a Tennessee-based lending officer with loanDepot and a Staff Sargent in the U.S. Air National Guard, recently returned from a 3-week deployment in Houston and shared his story with Team loanDepot.
As part of the 123rd Airlift Wing and its Contingency Response Group, Robert's squadron is responsible for being the first on site to set up. For this deployment, they supported a medical group tasked with stabilizing medically-critical patients for evacuation as well as providing medical services on-the-ground.
He arrived at George Bush Intercontinental Airport via a C-5 cargo plane, the largest used by the United States Air Force, in order to bring in all the supplies needed to create a self-contained triage unit. The payload -- including two jeeps, tons of water and food, huge tents, 100 beds, showers and water, Humvees, a huge forklift that can lift 30,000-50,000 pounds – weighed around 300,000 tons.
"When we landed, it was dark and we went straight to work setting up the facility," Robert said. "We brought everything we needed to create this 100-bed triage center that had all the supplies needed by the medical staff, such as shots, medications, instruments, bandages, and more. And the fact that we turned a concrete floor into a full-fledge medical center in 24-hours was truly amazing."
Hundreds of rescued people, many of whom were brought in from evacuated nursing homes, hospitals and homeless shelters, flowed through the make-shift hospital over the 3 weeks that Robert was deployed.
Regarding one memorable rescue that touched him deeply, Robert recounts: "One night around 3 a.m., we rescued a passed-out woman who was floating on a cooler in 13-feet of water. She was in a diabetic coma and had no pulse. We airlifted her and got her into the triage unit quickly."
About 20 minutes later, she was alert and responsive and within 2 hours she was stable enough to be medevacked to a nearby hospital.
"I thought, wow, thank God we were there to find her," he said. "And I can't believe she almost died from not having access to her diabetes medicine."
Some patients with less threatening medical issues would strike up conversations with the staff. "One man who came in with a swollen ankle was telling me how devastated he was because he had recently paid cash for a home that was now destroyed. It felt great to be able to use my financial knowledge and provide him with some ideas of what he could do to rebuild."
In addition to rescuing and helping people, Robert said there were quite a few rescued cats and dogs that passed through his facility.
"My wife and I are all about our dog Henry, an 8-month old golden retriever," he said. "So when I told her how I carried a dog in my arms and out of harm's way, I was my wife's hero."
And guess what, you are to us as well, Robert. Thank you for your service!