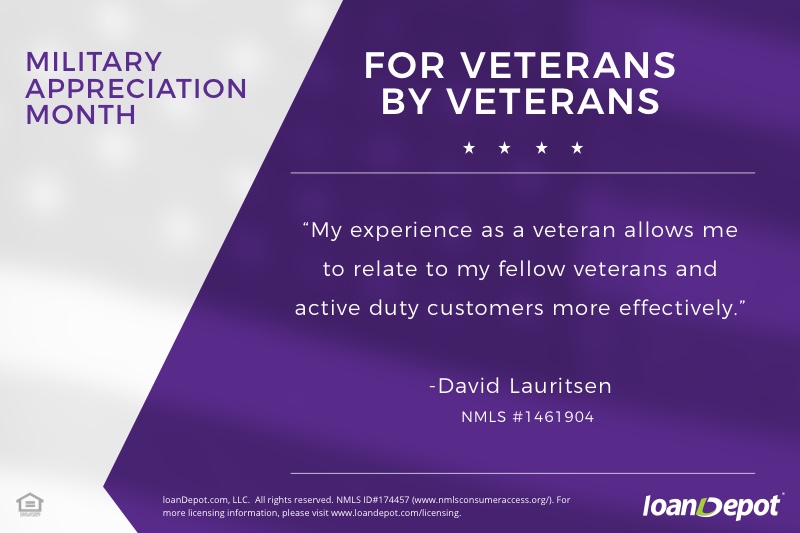 May is Military Appreciation Month—an excellent time to shine the spotlight on our country's servicemen and women who selflessly protect our great country. Over the next few days, we will be talking with our veterans about how loanDepot is committed to helping veterans and active military achieve their financial goals.
For U.S. Army veteran and Platinum Licensed Lending Officer David Lauritsen, assisting veterans and active-duty customers is an honor he takes very seriously.
"My experience as a veteran allows me to relate to my fellow veterans and active duty customers more effectively," says David. "For example, many of our Vietnam-era veterans are unaware of the many benefits of a VA loan. Many were led to believe that it was a one and done type of benefit and that is not the case. I enjoy talking with them and thoroughly explaining the loan and the process. Conversely, for our active-duty customers, I know that many of them are short on time, so I try to do as much of the leg work for them because I know they have other important priorities."
Of all of our VA loan offerings, David feels that loanDepot's 5/1 Adjustable-Rate Mortgage loan is a great option. "Typically it's at a lower rate of interest than the 30-year fixed with a low monthly mortgage payment the first five years," says David. "On a cash-out refinance, it's great for consolidating debt and it will allow the credit score to recover, all while giving the veteran a low payment."
David appreciates the dedication loanDepot and our CEO Anthony Hsieh places on assisting veterans. "Anthony's work with the Freedom Alliance program is exceptional," says David. "Anthony took it upon himself to take them out deep sea fishing for an experience of a lifetime. We also have 10 to 15 veterans/reservists currently working with me in our Plano, Texas, location. It's great working with people who are like-minded."
David's message to fellow veterans and active military during Military Appreciation Month is simple and direct: "Thank you for your service and commitment today and every day."
Learn more about your VA loan options. Give us a call at 855-328-6173 or visit our website today.