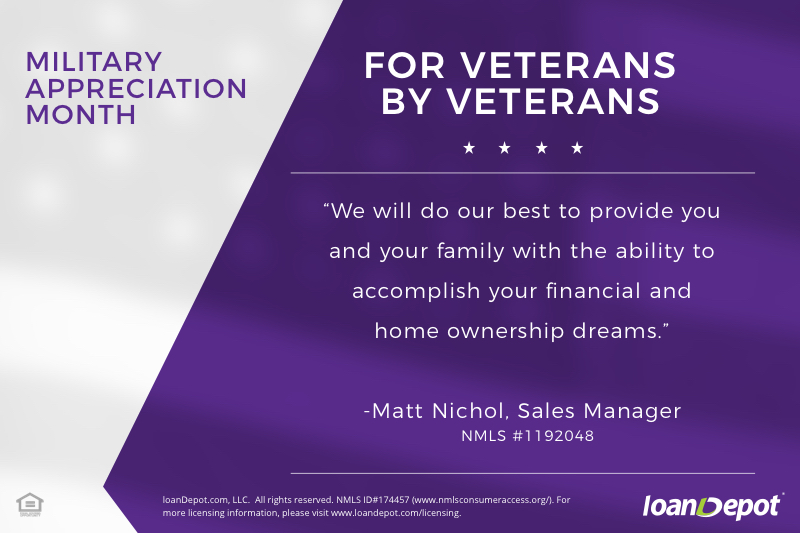 May is Military Appreciation Month—an excellent time to shine the spotlight on our country's servicemen and women who selflessly protect our great country. Over the next few days, we will be talking with our veterans about how loanDepot is committed to helping veterans and active military achieve their financial goals.
We begin our series with Sales Manager and U.S. Marine Corps veteran Matt Nichol, who strongly believes that his military experience enables him to better assist his veteran and active-duty customers:
"The core values of Honor, Courage and Commitment that were instilled in me by the Marine Corps serve as a constant reminder that I am not just helping a customer, but I am helping out a fellow brother or sister in arms," explains Matt. "And that makes helping them a personal mission, not just a goal. Their journeys are unique and so are their needs."
Matt also wants veterans to know that they have access to their benefits more than once. "Too many times I come across veterans who think that because they've used their VA benefit in the past and they paid that home off, they can't use it again. That's not the case. It's the gift that keeps on giving!"
What else would Matt like military families to know? "VA loans are the best way to get into a home when you haven't had the chance to save up a lot of money," he explains. "100% financing and no PMI is a game changer for military members making a transition from active duty to the civilian world."
Finally, Matt has a special message for fellow veterans and active military during Military Appreciation Month: "Semper Fidelis, and know that loanDepot will always have your Six!" he enthuses. "We will do our best to provide you and your family with the ability to accomplish all of your financial and home ownership dreams."
Learn more about your VA loan options. Give us a call at 855-328-6173 or visit our website today.