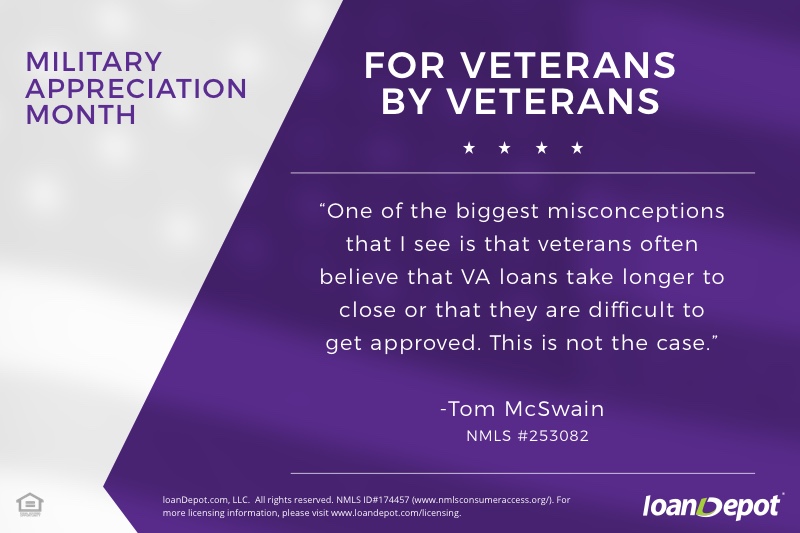 May is Military Appreciation Month—an excellent time to shine the spotlight on our country's servicemen and women who selflessly protect our great country. Over the next few days, we will be talking with our veterans about how loanDepot is committed to helping veterans and active military achieve their financial goals.
Licensed Lending Officer and Air Force veteran Tom McSwain believes his military experience, combined with his 8-plus years in the mortgage industry, enable him to better assist veteran and active-duty customers.
"Not only have I personally assisted more than 100 veterans and their families with a loanDepot VA loan, I personally had one on my personal residence," explains Tom. "This allows me to relate both professionally and personally regarding the process and the steps needed to obtain a timely closing."
When it comes to VA loans, Tom would like all customers to know that VA loans do not take longer to close than other loans. "One of the biggest misconceptions that I see is that veterans and Realtors often believe that VA loans take longer to close or that they are difficult to get approved," explains Tom. "This is not the case. VA loans are no different than FHA loans, which are commonly the alternative. The only difference is the required pest inspection and that the VA appraiser inspects the home to make sure the veteran and their family are safe."
loanDepot's focus on customer service is a value-add. "Our commitment to excellent customer service and processing assistance throughout the mortgage process is exceptional," says Tom.
Tom's special message to fellow veterans and active military during Military Appreciation Month is simple: "Aside from educational benefits, VA mortgages are one of the greatest benefits received from serving your country," Tom explains. "Don't pass up this unique opportunity!"
Learn more about your VA loan options. Give us a call at 855-328-6173 or visit our website today.